My favourite season is approaching, and that's the holiday season. Specifically, the European holiday season. I love this time of year when you have flights booked, temperatures are dipping and you have something to look forward to as winter approaches. Granted, I've vetoed my Europe plans this year in favour of going on a beach holiday in the French Polynesia Islands. Still, hopefully, come July I'll be lying on a beach somewhere, so it's all the same to me.
If you need a European summer outfits packing list – this is it. Whether you're travelling to explore the cobblestone streets of Italy or sunbathing on a French beach, it's one of the most idyllic times of year to be abroad. But if you want to truly make the most out of your getaway, you need an arsenal of European summer outfits to take on your journey. That's the best part of waiting for a holiday – the parcels arriving in the lead-up to it. To help you out, here are the 9 essential European summer outfits that will make sure you look and feel your best while soaking up all of Europe's beauty (or whatever beach you end up on).
Before we get started, I should mention, these styles all have to meet my person criteria: lightweight, easy to style and most importantly, comfortable. No one likes rushing for trains, planes and buses in the most uncomfortable outfits of their life.
10 European Summer Outfits You Need To Pack:
1. The Long-sleeved knit dress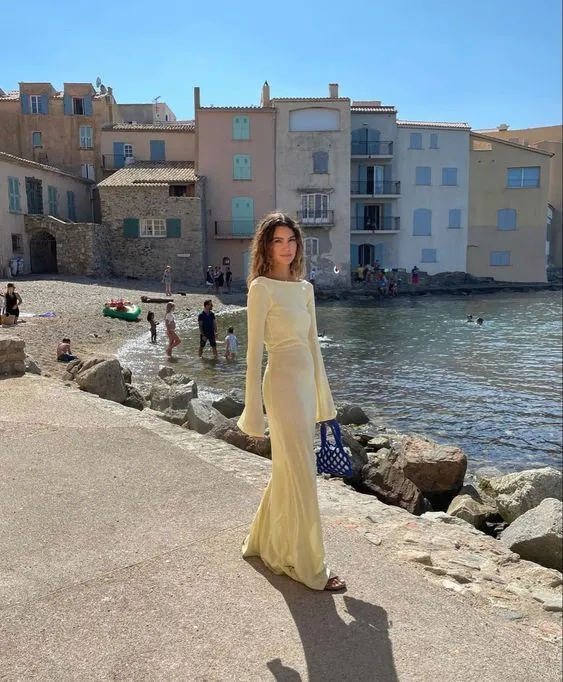 Let's set the scene. You've arrived in Europe, and it's HOT. You're torn between diving into your fresh hotel sheets for a siesta or getting ready to meet your friends for dinner. Deciding on the latter, you're stuck. Standing in front of your torn-apart suitcase, fresh out of the shower, you don't know where to start. Queue the long-sleeved knit dress. Over a bikini with slides, with heels and chunky jewellery, or really anything, instantly looks good when you're in Europe.
Shop The Look:

2. The White linen pants and bandeau top
Could you enjoy a European summer without linen? I vote no. It's lightweight, it's breezy, it's everyone's go-to for summer travel, and honestly, for good reason. This year, the best way to style this (and make it a bit more interesting) is with a bandeau top or a printed scarf. There's nothing quite like having your arms free to catch some breeze while travelling. With the right accessories and choice of colours, this outfit can look sophisticated vs. "I'm a tourist."
Shop The Look:

3. The linen shorts and shirt Co-ord
When the heat is unbearable, a matching linen shorts and shirt set is your saviour. Take a lead out of Matilda Djerf's playbook. Plain, striped, colourful – you name it, it works. It's the perfect look for a day trip to the beach worn over a bikini with slides or a white singlet and sneakers if you're making your way through town. I couldn't fault this combination if I tried, especially when you can mix and match with other pieces in your luggage.
Shop The Look:

4. The Crochet maxi dress
No European summer wardrobe is complete without a crochet dress, specifically a maxi. Whether you want to go for the traditional colours seen in Europe (like beige, brown and terracotta) or a brighter palette (think pinks, blues and corals), the crochet maxi dress is perfect for both day and night. Wear it with wedges or sandals during the day, or dress it up at night with colourful earrings and heels. Again, another winning staple for any traveller.
Shop The Look:

5. The Crop top and knotted maxi skirt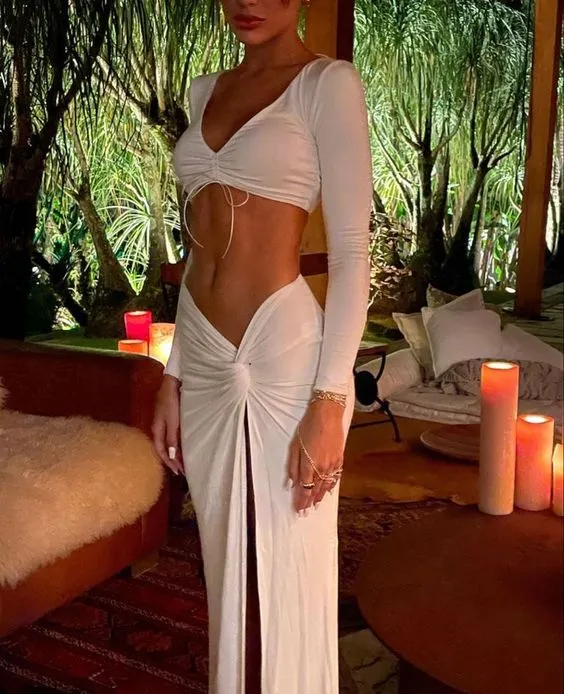 I've seen this combination everywhere lately and even though it's winter here, I'm in full support. This is your go-to evening outfit, and it's the perfect way to show off your holiday glow. Any crop top goes because this look is all about the skirt. With its high slit and knot detail, it's an effortless piece both to style, and carry with you. It's also more practical to wear and walk in than the classic white linen midi skirt. Whether you're out for dinner, or partying with your friends, you can't go wrong with this combination.
Shop The Look:

6. The White mini tennis dress
This one is for all the sporty girls out there. A white mini tennis dress is perfect for a day of sightseeing or if you're planning to do some shopping in town. It's light, it's easy to wear and can easily be dressed up or down depending on the occasion. Just picture this with your aforementioned linen shirt overtop – so easy. Plus, it's one of those outfits that always looks great and a bonus…you'll never have to worry about creasing.
Shop The Look:

7. The Maxi Skirt with a belt
The maxi skirt and belt combo is a classic. You can style it in so many ways, making sure to get the most out of your luggage and enjoy it for every occasion. Wear it with a crop top or tank top during the day and dress it up at night with a nice blouse or bodysuit. It depends on whether you opt for a print or a plain colour here. If you want to add a bit more zest, accessorise with a vintage chain belt or statement earrings. It can be very Greek goddess or sultry Italian – the choice is yours.
Shop The Look:

8. The Satin trousers
Comfort is key. I lived in satin trousers when I went to Bali last year, so this is a personal favourite of mine. They're breezy, they look great, and surprisingly easy to wash when you're on the go. Mine still looks as new as the day I bought them. The best part? You can dress them up or down (do we spot a theme?) – wear them with a nice blouse for dinner or dress it down with a classic white t-shirt or crop top. They're also perfect for long flights, so you can look stylish and stay warm without feeling sweaty.
Shop The Look:

9. The Denim Mini and a white tee
Last, but not least – an update on the classic denim shorts and plain white t-shirt combo. It's all about the graphic t-shirt and cargo mini skirt. This one screams "I'm going on holiday", and is so easy to dress up or down with accessories. I'm sure you have one of these pieces in your wardrobe already, so all you need to do is grab some statement jewellery and you're good to go. If you are looking to invest in some new pieces, check out the selection I found below.
Shop The Look:

10. The printed set
Is there anything more stereotypical than a matching set? No. But do we still love it? 100%. There is something so classic yet sassy but modern about this set. Brought to you by the wave of Rat & Boa fans, there's nothing about this that says 'boring'. Wear it to an outdoor lunch, or a night at the beach bar – you can't go wrong with this one. It's also super practical because you can roll it up and pack it as nothing into your suitcase.
Shop The Look:

Last but not least, I had to include accessories and shoes. When I travel I always make sure to bring a cap hats, some statement earrings, a tote bag and heaps of comfortable walking shoes. They can be so useful when it comes to styling, and you can always mix and match them with your outfits for a different look each day of your trip. And, let's face it, you're going to be walking some miles in these. This year big is best – big platform slides, big statement earrings and while we're at all, big hats are best.
European Summer Outfit Accessories

So there you have it – the European summer outfits you need for your next getaway. With the right items, styling them will be a breeze. We love convenience as a lazy fashion girl after all. I hope you all enjoy your travel this season and here's to a great summer ahead!