Finding the perfect vintage shoes can be quite a challenge, especially when you're looking for specific brands like Chanel, Prada and Dior. Designer shoe dupes, even harder. The search becomes even more daunting when you're trying to find that pair in your size. It's a quest that requires patience, persistence, and sometimes, a little bit of luck.
Last week, I found myself stumbling down the rabbit hole in pursuit of these vintage gems. While shifting through countless online thrift stores, I realised that maybe I didn't need to. Many of the styles from the early 2000s have made a strong comeback, and even better – there are now affordable dupes for all of these iconic designs. I even found a Chanel slingback dupe!
These modern reproductions capture the essence of the original designs while being more accessible and budget-friendly. Since I spent hours hunting online, I thought I'd put that research into good use and share with you what I found. Continue reading for all my vintage (and some new) Chanel, Prada, Dior, Manolo Blahnik, and Versace heel dupes.
12 Stunning Designer Shoe Dupes
Vintage Chanel Rosebud Sandal Heels
You can't tell me that these Chanel Rosebud Sandals aren't straight out of an episode of Sex and the City. Adorned with delicate rosebuds and leaves along the straps, these sandals serve as a testament to Karl Lagerfeld's unrivalled craftsmanship and attention to detail. These heels were originally released in array of colours, from the soft and romantic pink, to beige and black, and metallic gold. I first spotted these within Matilda Djerf's iconic shoe collection and have been on the hunt for a dupe ever since. I have to say I did pretty well—these designer shoe dupes are almost identical.
Shop The Chanel Dupes:

Prada Eyelet Bow Kitten Mule Heels
Crafted from luxurious suede, these shoes feature a playful scallop trim, an adorable bow, and eyelet detailing. With a slight bohemian feel, these are the perfect addition to any outfit—whether you're off to a winery for the day, or roaming the streets shopping. I've seen the original Prada heels all over Pinterest lately, so I was very happy when I found these almost identical shoes for a quarter of the price.
Shop The Prada Dupes:

Vintage Chanel Slingback Toe Cap Heels
These Chanel slingback heels feature the signature two-tone beige and black colour-way, a design element that has become synonymous with the brand over the decades. I personally love the addition of the side bow on these, and the pointed toe. It sets them apart from the classic Chanel slingbacks that have been in high rotation amongst Parisian fashion girls for the past few years. If you've wanted to dabble with this style, check out my Chanel slingback dupes below—they're almost identical to the real thing.
Shop The Chanel Dupes:

Chanel Ribbon Kitten Heels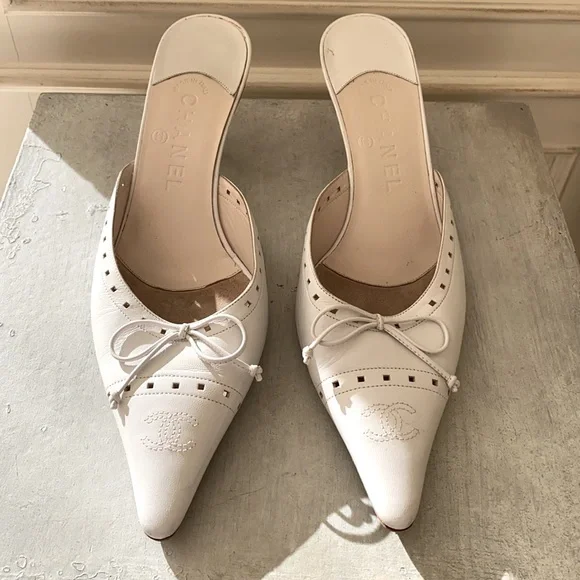 These Chanel kitten heel mules feature the classic "CC" detail on the top, adorned with a charming bow, and crafted with delicate perforated dots detailing. These Chanel mules are not just beautiful but are also a great casual heel option perfect for daily wear. Whether you're stepping out for a brunch date or running errands, these mules ensure you do so with an air of Parisian chic.
Shop The Chanel Dupes:

Vintage Prada Caged Kitten Mule Heels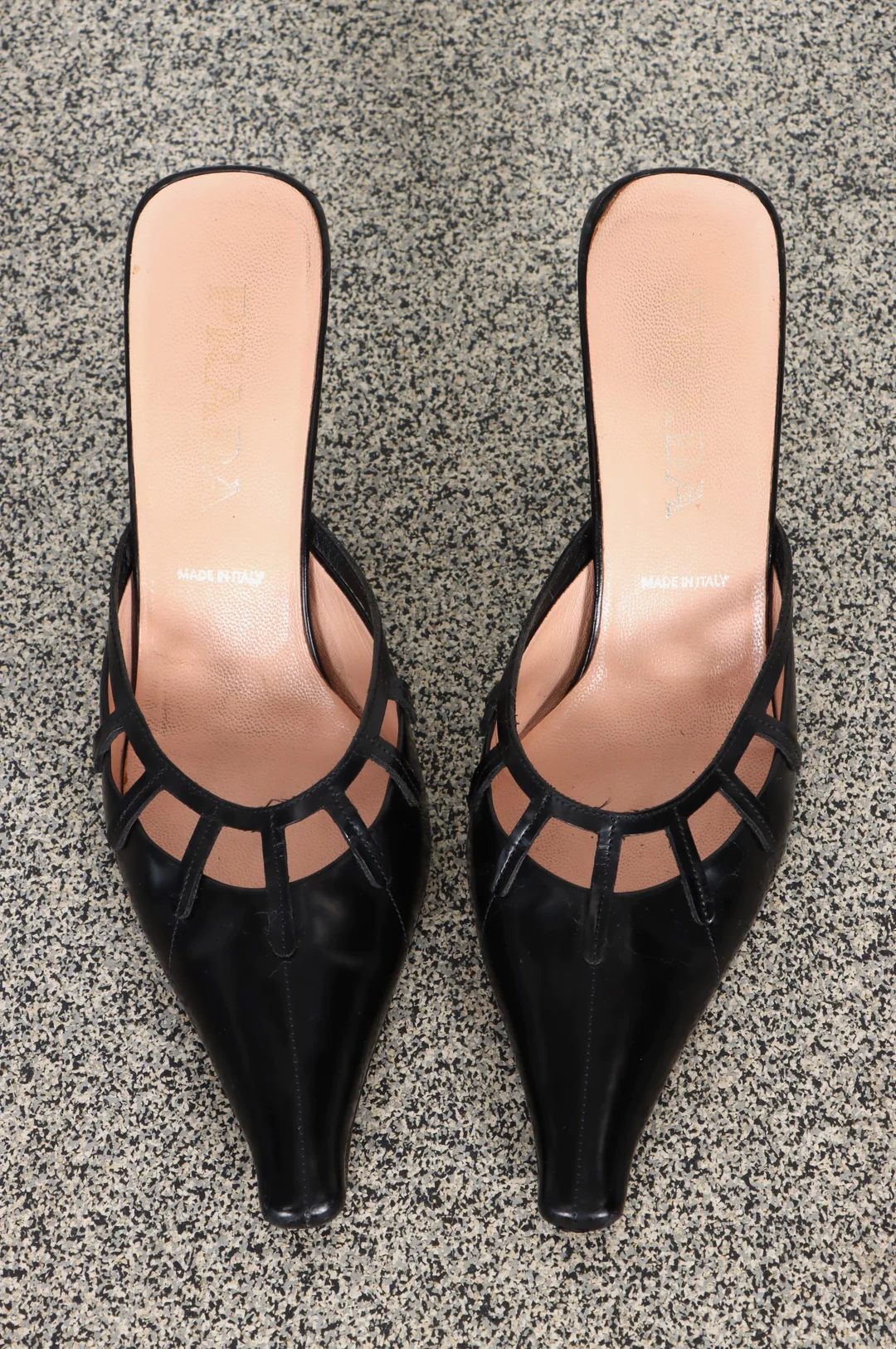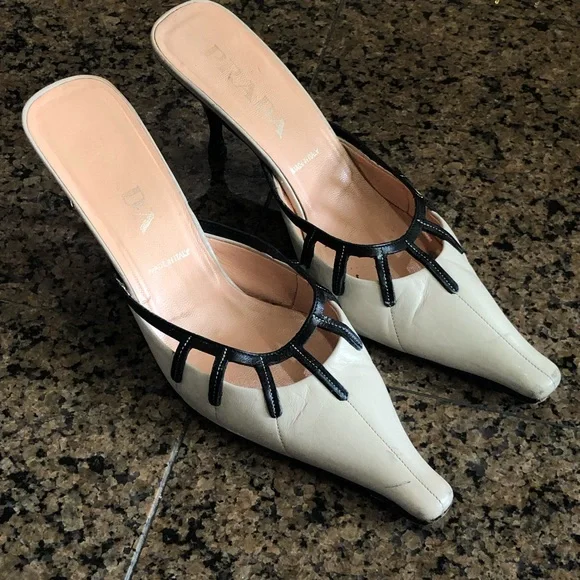 The Vintage Prada Caged Kitten Mule Heels are a true blast from the past. These gems feature a unique cut-out detailing that was quite unique for the time. You could find them in two versions – with a chic slingback and without, offering a little something for every style preference. Because they were released quite a while back, it was tough to find a good photo of these beauties, but you get the idea.
Shop The Prada Dupes:

Dior Monogram Buckle Mules Heels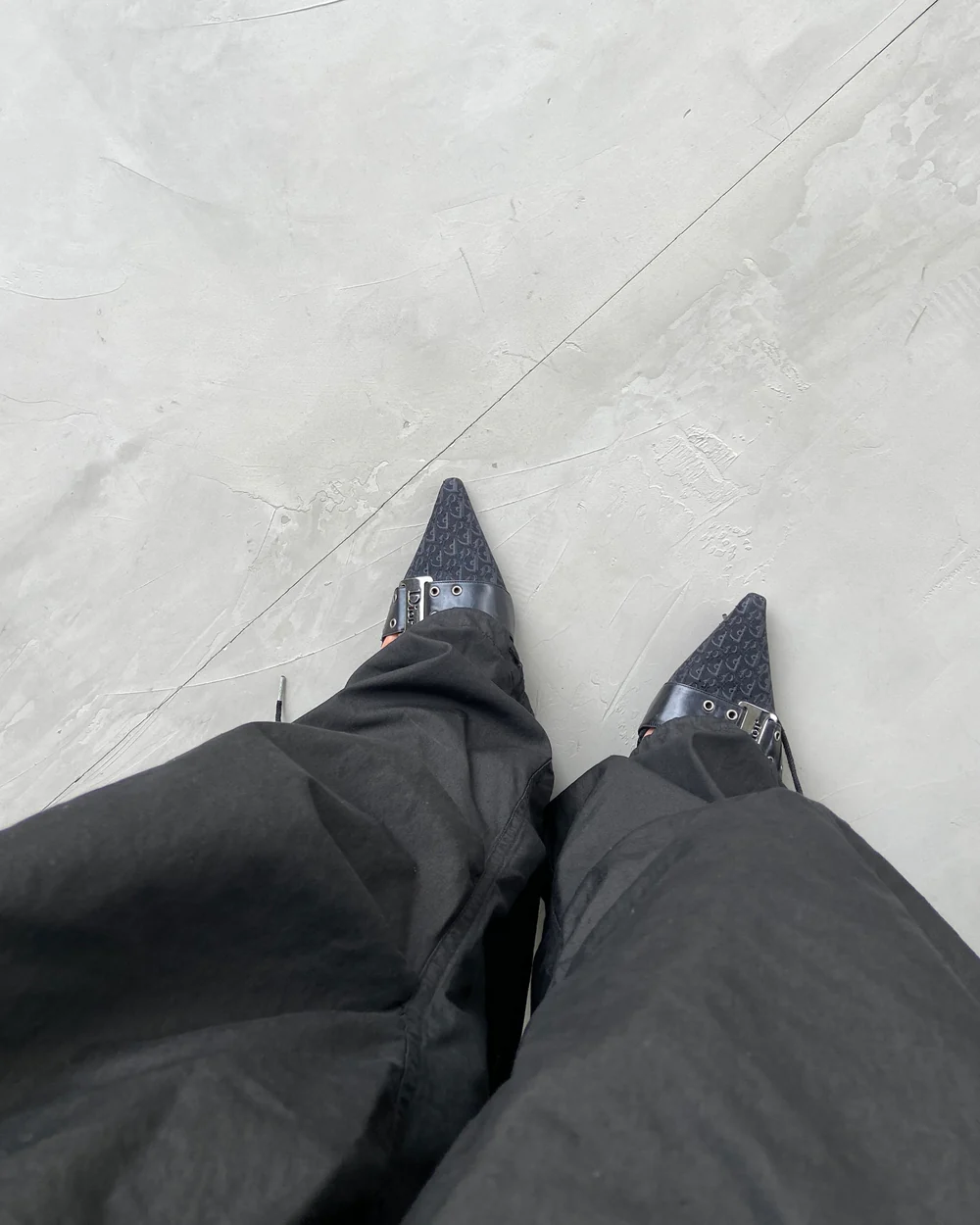 The Dior Monogram Buckle Mules Heels are a vintage treasure that features Dior's signature monogram pattern, along with a bold buckle detail. This style lends itself perfectly to any outfit, whether it be a casual day look or a more formal evening ensemble. I didn't manage to find an exact dupe (obviously, sans the logo detailing) but I did find some so similar they'll give you that edgy Dior feel.
Shop The Dior Dupes:

Vintage Christian Dior Crossover Buckle Mules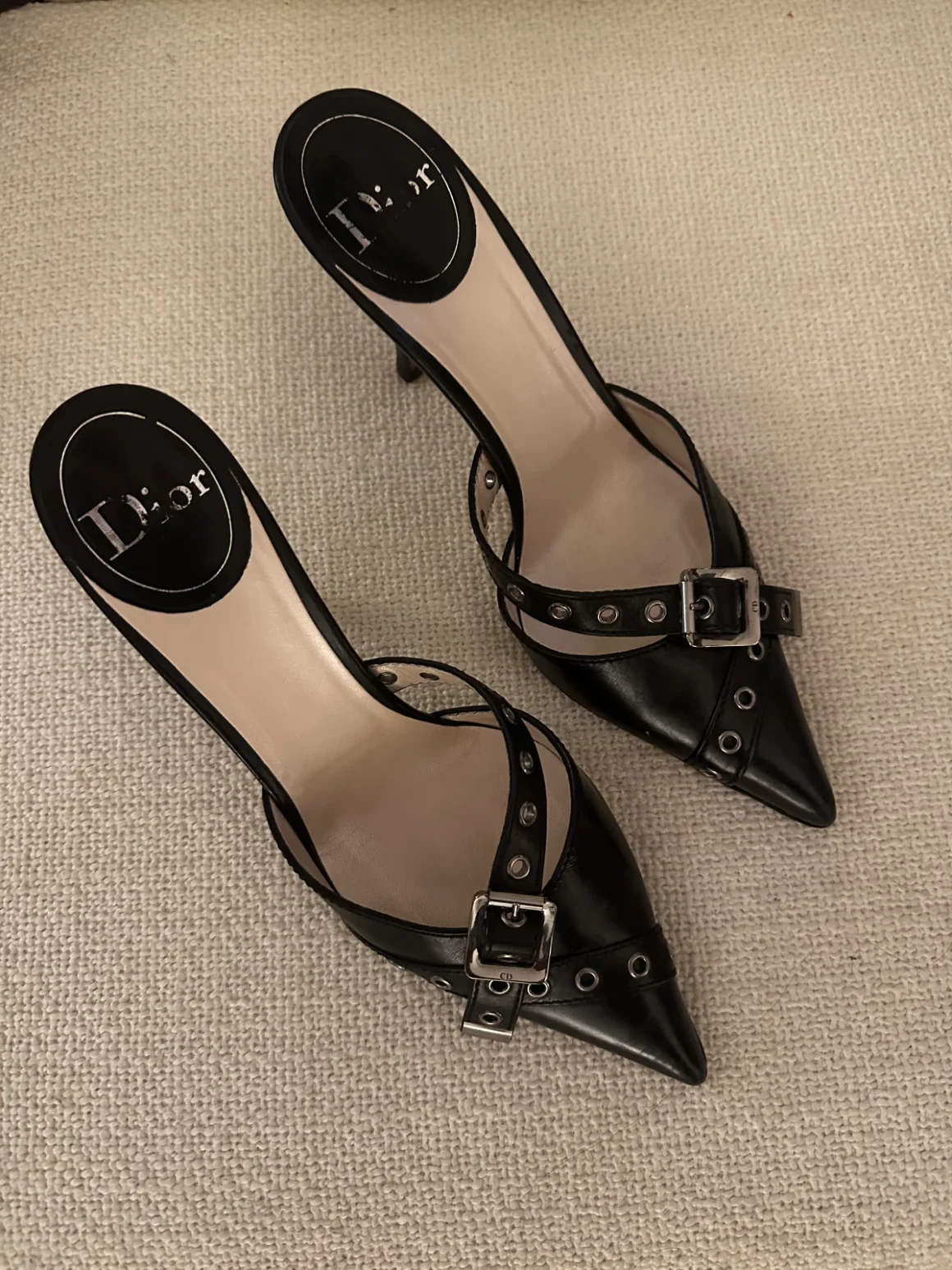 The Christian Dior Crossover Buckle Mules are a quintessential piece of the early 2000s vintage fashion. The design features a crossover pattern with a buckle detail, which adds a bit of edge to this classic heel. I love that they used to come in both fabric and leather, which caters for both a daytime wearer and night.
Shop The Dior Dupes:

Vintage Dior Mules D'trick Collection
These vintage Dior mules from the D'trick Collection stand out with their unique and very feminine two-tone detailing. Crafted in luxurious leather, they come adorned with open toes, brogue trim, and gold-tone stud embellishments throughout, along with dainty bow adornments. They hail from Dior's early 2000s collection and if you're lucky enough to find them, are a rare vintage find. I actually surprised myself with these near identical dupes.
Shop The Dior Dupes:

Vintage Manolo Blahnik Embroidered Floral Mules
It's not everyday you stumble across a good Manolo Blahnik dupe. Manolo Blahnik is another name I always associate with Sex and the City, always. These floral embroidered kitten mule heels are the kind of shoe you would never let go of—perfect for a shoe collector. This floral style might not be to everyone's taste, but if you'd like to try this style for yourself I've found a very similar style below in darker colourways.
Shop The Manolo Blahnik Dupes:

Versace Laced Pin-Point Slingback Pumps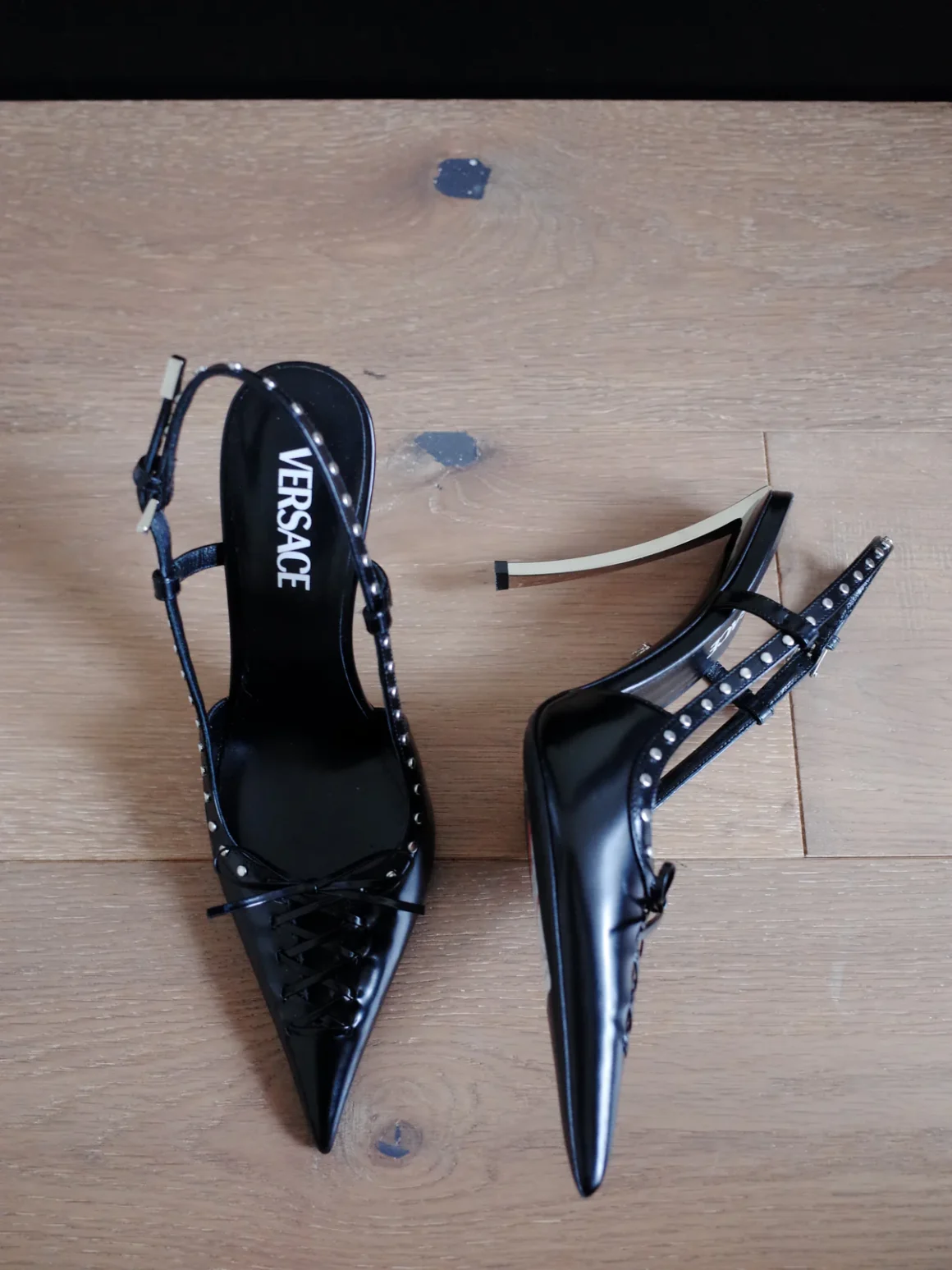 The Versace Laced Pin-Point Slingback Pumps are a standout piece from the current season's collection. These leather pumps are defined by their high, curved stiletto heels and sharp pointed toes which aren't for the faint-hearted. What truly gives these pumps that wow factor is the intricate lace-up detailing on the uppers, accented by bold studs. Unlike the timeless Chanel heels mentioned previously, these Versace pumps are decidedly modern, making them the perfect choice for those who want to make more of a statement. I found an almost perfect Versace heels dupe for you below.
Shop The Versace Dupes:

Moschino Butterfly Kitten Mule Heels
The Moschino Butterfly Kitten Mule Heels are another pair for the collector. The most distinctive feature on these shoes is the butterfly design. These heels are adorned with sequined butterflies and multicolor thread, adding a colourful pop to the black satin base.
Shop The Moschino Dupe:

Prada Brushed Leather Slingback Pumps
Last but not least, the IT heel of 2023 had to be included on the list. The Prada Brushed Leather Slingback Pumps are a perfect example of sophistication meets edge. Literally—that pointed toe could cut you like a knife. Crafted from brushed leather, a material that has been synonymous with Prada since the 90s, these are no doubt a heel that will be resurfacing for decades to come.
Shop The Prada Dupes:

Finding affordable alternatives to designer footwear doesn't mean you have to compromise on style or quality. These 12 stunning designer shoe dupes for iconic Chanel, Prada, Dior, Versace, Moschino and Manolo's prove that you can achieve the same luxurious look without splurging. Trust me—no one cares whether you drop $200 or $2000 on your heels. It's all about having fun and enjoying fashion with whatever budget you have.
With that said, I hope you enjoyed this and let me know which were your favourite designer shoe dupes in the comments below!