Finally a nail trend I can get on board with—and that's short nails. Short nails has made a swift comeback after a long season of lovely the oval, Kylie Jenner shaped claw. I'm going to go out on a limb and say it's most likely because they're low maintenance and to put it lightly, practical for everyday (for us normal people). Honestly, how people even manage to type with long nails is beyond me?
I'll always be a fan of short nails but I do recognise that with less space, it can be difficult to find nail art that works. That's why I've done a deep dive of all the best and current short nail art trends for 2023. Most of these are pretty timeless so I'm sure they'll be around for years to come, one way or another. With that said, continue reading to see all of my favourite and practical nail looks for the season.
Coloured French & Reverse Tips
Whether you like a coloured thin French tip, a reversed French tip or both – these nails can be really fun. Keep it simple at the base level with a light pink or neutral, and then choose your favourite pop of colour.
Simple Daisy
If you're looking to add some fun to neutral nails, adding a bright coloured daisy is a cute way to do so. For this one you definitely need to pick a contrasting colour to make them pop.
Starburst With Diamantes
Probably the most glitzy of all the short nails art I've included in here, and my favourite. The key to achieving this look is the strategic placement of diamantes at the centre of the starburst, adding an extra sparkle and making it stand out even more.
Rainbow Aura
I absolutely love the eclectic aura nail style, and this rainbow set perfectly embodies that. This is a beautiful way to blend different colours together, depending on your personal style. Pink, green, blue and yellow – they all look amazing.
Black & Grey Ombre
Here's one for those of you that are into more grungy styles. This features a dark base layer, usually black, with a grey and white shades blended like an aura in the middle. These look SO good stacked with chunky jewellery. Effortlessly cool.
Ice Blue Chrome
It's no secret that Hailey Bieber made chrome nails a huge trend. This time around though, it's all about the ice blue. It's classy, polished and looks beautiful paired with fine jewellery.
Barbie Pink Nails
You know how the Barbie movie has made everything old new again? Well, it's done the same for Barbie pink nails. Now, this isn't just your standard pink – we're talking about every shade from rich fuchsia to delicate pastels. The best part? There's a shade of Barbie pink for everyone.
Chrome Fuchsia
Speaking of Barbie nails, here's another type of pink nail you need to try. Chrome fuchsia pink nails are a beautiful way to embrace the trend. They give off that old money look – especially featured on short nails.
Chocolate Brown
Chocolate brown nails are a stylish and sophisticated choice, especially for those with short nails. This rich, warm shade is incredibly versatile, complementing every skin tone and making your hands look elegant and well-groomed. The beauty of chocolate brown lies in its universality – it's perfect for both casual day-to-day wear and more formal occasions. Plus, it pairs well with various nail shapes, from square to oval, accentuating the neatness of short nails.
Lipgloss Nails
Lip gloss nails is a trending manicure style that is all about enhancing the natural beauty of your nails with a neutral pink polish. The hue leans towards a sheer peachy or milky pink, offering an understated elegance that complements any outfit or occasion. It's like the perfect nude lipstick for your nails – it enhances their natural colour, making them look prettier without being overly dramatic.
Heart Coloured Matching Accent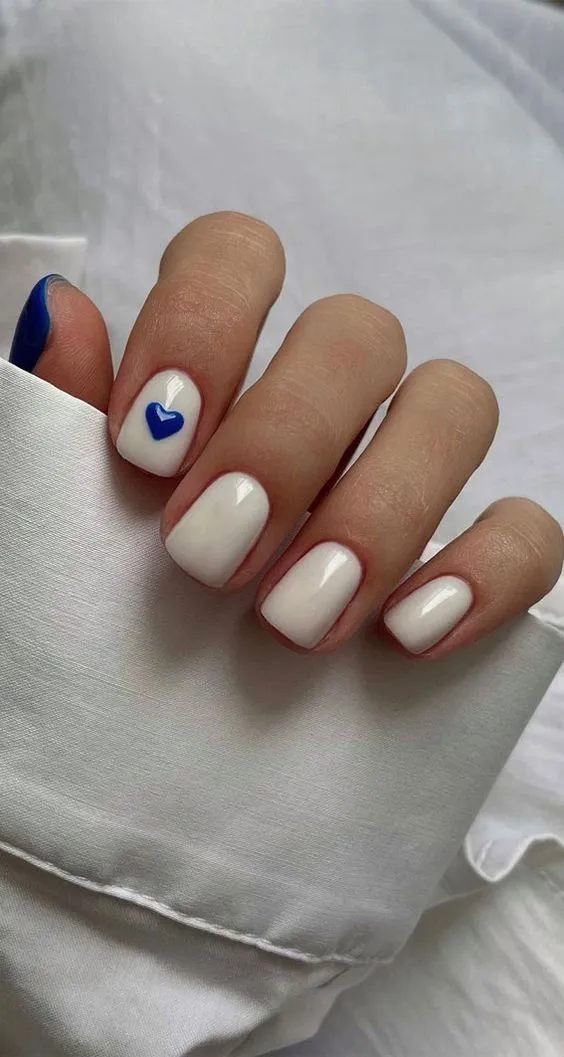 This is an adorable and trendy nail art design that's easily to recreate – no salon needed. It features a neutral base, allowing the colourful accents to truly pop. The standout element of this style is a small, heart-shaped design on one nail, matched with a full colour thumb nail in the same hue. The heart can be any colour you fancy – from bold reds and blues to soft pastels, the choice is yours.
Coloured Tip Outlines
Coloured tip outlines is a modern twist on the classic French manicure. This nail art design involves painting just the outline of your nail tips in a vibrant colour, leaving the rest of the nail in its natural state or coated with a clear polish. The result is a minimalist but striking look that adds a pop of colour to your hands without overwhelming them.
Simple Squiggles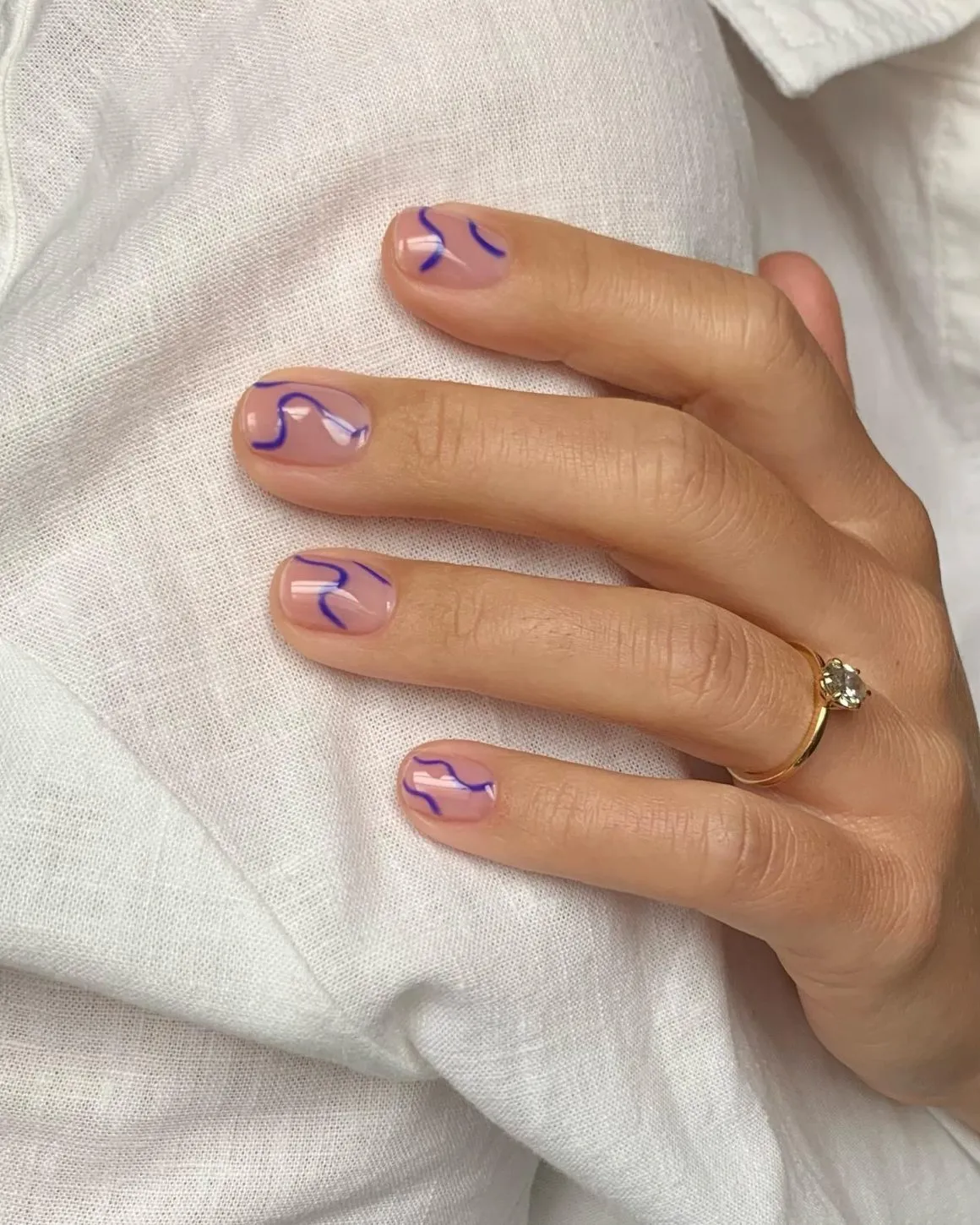 Simple squiggles nail design is a fun and quirky trend that's all about embracing minimalism with a playful twist. This design starts with a clear coat as the base, allowing the natural beauty of your nails to shine through. Next, colourful squiggles are painted overtop in an assortment of hues. This is a fun way to add a little sparkle to an otherwise plain nail.
That's all the short nail art designs I have for you today. Have I convinced you to swap your long nails to short? Because, I think I've convinced myself. There's something so elegant about them—even if they're covered in rainbows. I'd love to know your favourite from the bunch, so don't forget to leave it in the comments below!