As a beauty lover, it's always exciting to discover new skincare brands that seem to deliver on their promises. That's why I was so excited to try out the products from Emma Lewisham.
Emma Lewisham is a New Zealand-based skincare company that's making waves in the industry. Not only are their products effective at improving the appearance and health of the skin, but they are also environmentally friendly. Every product in their range can be re-filled, reducing waste and helping to protect the planet. Through its commitment to sustainability, Emma Lewisham stands out from the crowd of other skincare companies and has built a loyal following because of it.
Think of this as the Glossier of the Australasian skincare world, with luxe purple and pink packaging and high-quality formulas that nourish without clogging pores. In fact, every product is scientifically proven, 100% natural, and made free from common skin irritants like parabens, sulfates and alcohol. Perfect for those of you with sensitive skin.
I recently tested some of their most popular products and was really impressed with the results.
Emma Lewisham Skin Reset Serum
If you're wondering what Emma Lewisham product to try first, the Skin Reset Serum is a great option. Incorporating a huge amount of plant-based actives, such as vitamin c and niacinamide, this serum promises to reduce your pigmentation, even complexion and re-balance your skin's natural glow. With four times higher concentrations than other brands (so I read in an interview), it's no surprise that people are quickly becoming devoted fans of this amazing serum!
I personally love adding new serums to my routine, so the Skin Reset Serum from Emma Lewisham was definitely high on my list to try. Every morning since I began using this product, the difference in my skin has been staggering. My skin is glowing and feels noticeably hydrated. I find that when I break out while using this it heals quickly, and the scarring fades faster. It also layers well with my morning products, and I have no issue wearing my make up on top. At $148, it's priced similarly to other Mecca brands too, and it comes in my favourite push container so you can avoid dipping your fingers in.
Emma Lewisham Supernatural Face Crème Riche
Emma Lewisham's Supernatural Face Crème Riche is the answer for dry skin that needs a powerful boost in hydration and nourishment. It's also said to help reduce fine lines for an overall brighter and replenished look. It contains hyaluronic acid, which naturally hydrates the skin, along with alaria escentula extract, which helps to increase your natural production of collagen.
Personally, this is my dream moisturiser – rich, hydrating, and a little goes a long way. I've been using this face cream for about six weeks now and can really feel the difference it's making for my skin. My skin looks so much healthier, and I no longer struggle with dry patches or flaking during the day. It's also great for layering; I like to apply it in the morning after my serum and just before bed. Also, the packaging means you won't leave any trace behind. It has a sweet scent that I really like, and unlike any other products I own.
Basically, if you like it THICK, this is a must-try.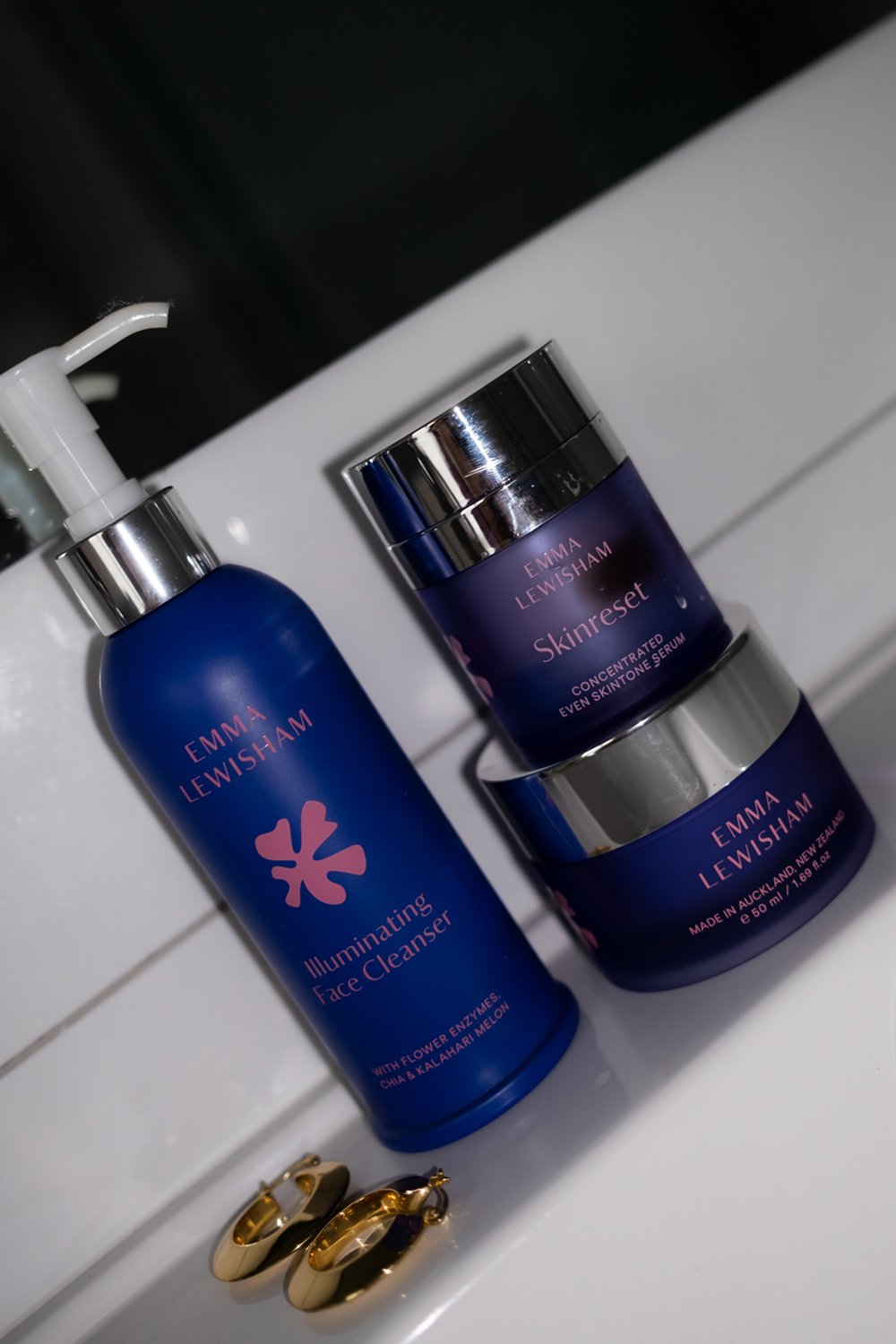 Emma Lewisham Illuminating Oil Cleanser
The last product I've been trialing is the Emma Lewisham Illuminating Oil Cleanser. This is a luxurious cleansing oil that turns into a milky emulsion that removes makeup and impurities whilst also nourishing your skin. It's specifically designed to protect your skin's natural hydration while leaving behind no residue.
This is a cleanser I reach for if I've been wearing light or no make up that day, but I find it doesn't remove my stubborn mascara as well as my usual heavier duty balm cleaners or oil cleaners. I have to use quite a lot of product to get it on the same level as my other products. In saying that, it does leave my skin feeling moisturised afterwards, and you can tell it's gentle on your skin.
Overall, I've been really impressed with the products from Emma Lewisham. They are all refreshingly simple yet powerful formulations that help to improve the appearance and health of the skin. Plus, it doesn't hurt that the bottle look beautiful stacked in your bathroom.
So, are the products worth the hype? 
The bottom line is that Emma Lewisham's products do deliver on their promises. They are all refreshingly simple yet powerful formulations that help to improve the appearance and health of your skin. With their commitment to sustainability, you can be sure that you are getting a product that is not only good for your skin but also for the planet. It's no wonder why they are so popular and have been making such big waves in the industry.
The Supernatural Face Crème Riche Moisturiser and Skin Reset Serum are my stand out products. It's important that I use the right products because of my skin type (AKA crusty), and these both leave it feeling soft, nourished and radiant. That's no surprise since they're packed full of my favourite ingredients, such as niacinamide and hyaluronic acid. I've integrated them both into my everyday routine and will continue to going forward. Especially in winter – these will be absolute staples.
Where those products shine, I feel like the Illuminating Oil Cleanser lacks lustre. I think mostly my issue with it is that I prefer balm cleansers as I need something that will remove my entire face in one go. That's just my preference though (I'm lazy), and I can see why a lot of people would love it. It's very gentle on your skin, and it does leave your skin feeling clean and hydrated.
If you are looking for a sustainable brand to support in your skincare routine then I'd definitely give it a go.
You can shop all of these products at Mecca in Australia and New Zealand.