Quiet luxury is one of those buzzwords that captures the essence of the fall 2023 fashion trends. This season it's all about the everyday basics but made with high-quality materials and in timeless silhouettes. If you're a minimalist, like me, there are so many options to choose from and finally, they're all wearable—timeless even!
Why is that so important? Because usually, trends are fleeting. They come and go, and we often end up with clothes that we wear only once or twice before they're out of style. And no one likes splurging on a $300 skirt just for it to collect dust in a wardrobe, easily forgotten.
With that said, it's time to pack away your summer clothes and find some pieces to fill the gaps. Here are 6 fall 2023 fashion trends to add to cart.
Off The Shoulder Tops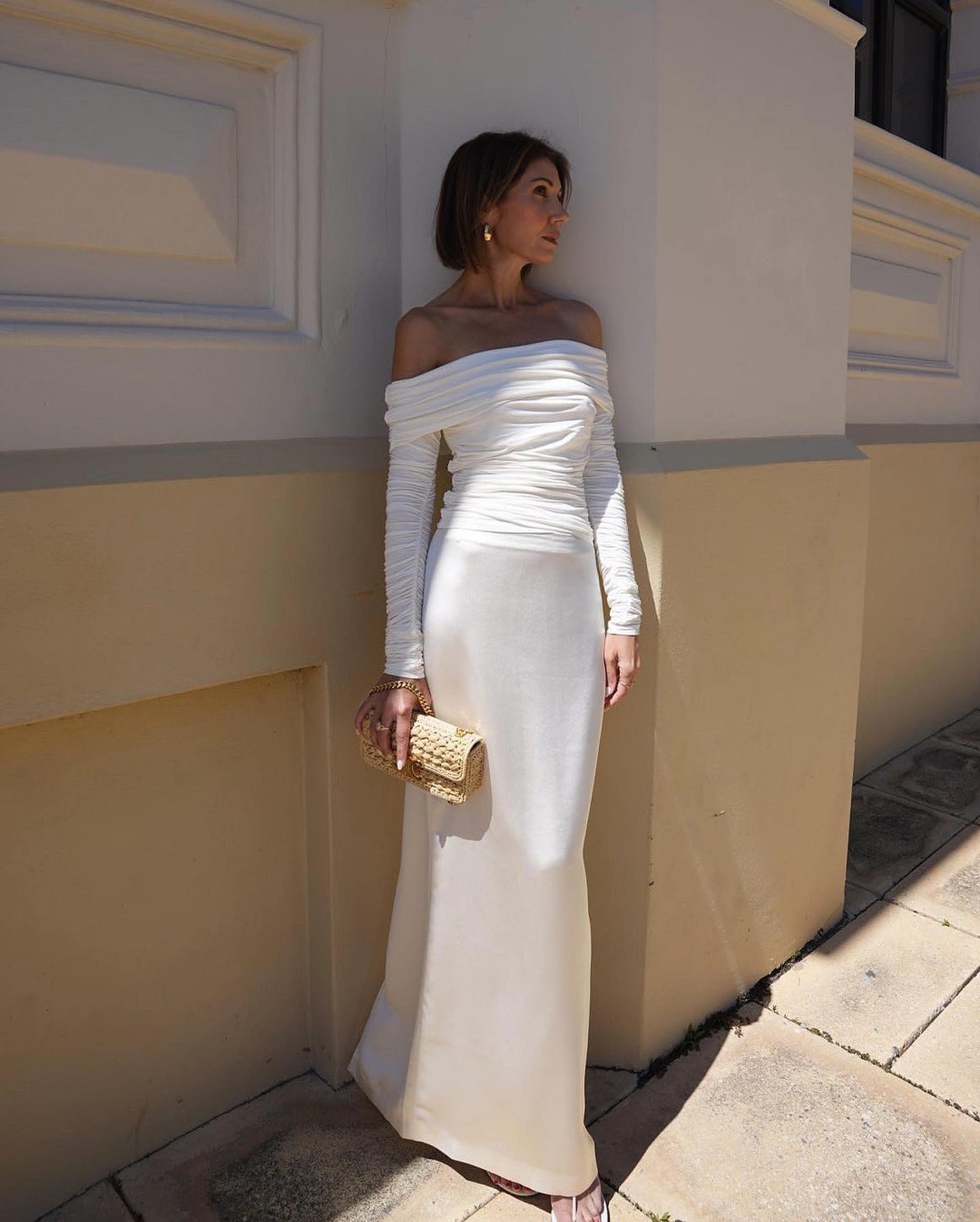 You know what? The shoulder-baring look is not just for warm summer days anymore. It's all about showing off your décolletage this fall/winter season. Off the shoulder tops can be effortlessly styled with other major trends of the season, including satin maxi skirts for a more Parisian style outfit or paired with oversized trousers for those a little more laid-back. Especially since they're coming in all sorts of materials—wool, cotton, and even silk satin. I've had this Henne top on my radar, but I've included some off the shoulder dresses and sweaters below incase they suit your climate better.
Shop Off The Shoulder Tops:

Maxi Satin Skirt
Satin skirts—specifically the maxi satin skirt. It isn't a new trend by any means, but it will be a big one this fall. The long length combined with the glossy finish makes it particularly alluring to those who have been embracing the quiet luxury trend this year. No one would ever know it took you 5 minutes to get ready with this slip-on-and-go situation. You can probably tell I'm gravitating towards the white satin maxi skirt, but grey and neutrals work too. Throw on a jumper or an oversized blazer (which I'm sure you already own) and you're golden.
Shop Maxi Satin Skirts:

Lace: Dresses, Top, Skirts And Pants
Move over the LBD, we're welcoming in the BLD (black lace dress). Lace isn't just for special occasions anymore, it's making its way into everyday wear this fall. Thats because it's not just lace dresses that are big, it's lace pants, lace tops and skirts too. Because it's fall, you can have fun layering your lacy pieces with chunky knits or pairing them with leather jackets for a tough and feminine contrast.
Shop Lace Dresses, Top, Skirts And Pants:

Cable Knit Sweater
The cable knit sweater is a timeless fall and winter wardrobe staple, and it's not going anywhere this season. Once I saw the Loewe Chunky Cable-knit Wool Sweater, adding this trend to the list was a no-brainer. It just works. Perfect for layering under a trench coat or oversized blazer. Or, if you want to embrace Parisian relaxed street style, an oversized cable knit sweater with baggy jeans and sneakers is a go. Plus, it's warm and perfect for all types of weather.
Shop Cable Knit Sweaters:

Minimal Cargo Pants
Moving away from the classic jeans for fall, now we have an even comfier alternative: minimal cargo pants. We're talking neutral tones without all the bells and whistles (but still with the quintessential oversized pockets)—no camo print in sight. Black cargo pants, in particular, offer a sleek and sophisticated twist to this trend, easily paired with a variety of tops and shoes. I personally love that they can even be styled with a leather belt and vintage heels for a more elevated look.
Shop Cargo Pants:

As we wave goodbye to summer and welcome fall/winter, I hope you find some inspiration for your seasonal wardrobe.
Let me know what's your favourite fall 2023 fashion trend in the comments below!