It's been a while, but we're finally back with the third instalment of the House of CB dupes series! From House of CB dress dupes to corsets, and all your other most requested pieces, you'll find some affordable alternatives for you favourite (expensive shipping) brand. I know I harp on about this every look for less post, but WHY is shipping still so expensive for this side of the world!? I'll never know.
You know how much we all love their pieces, but let's be real – inflation is really making it a fashion vs. house savings battle lately. That's why I'm here to help you find some beautiful alternatives that won't break the bank.
As mentioned before, this post is part three of a series. If you want to check out my previous posts just like this (including your other favourite brands like With Jean, Djerf Avenue and more) then you can find them here.
Audette Structured Corset Top
The House of CB Audette corset top is simply stunning! It's all about modern elegance with its sleek and chic design. This piece is expertly crafted to give you that iconic hourglass silhouette you've always wanted. And the boning throughout? It's there to create the perfect shape, all while holding the girls in.
If it looks familiar to you, it has a very similar design to the House of CB Kara Dress. While I love this top, I'm kind of obsessed with the dupes I found below (you can even get matching pants for under $100!).
Shop The Dupes

Noura Lace Trim Open Front Tank
Noura Lace Trim Open Front Tank is the perfect choice for a date night. Featuring a square neckline and delicate scalloped lace trim—it's giving elegant and romantic. One of the great aspects of this style is its versatility. By simply buttoning up the first two loops of any button-down tank, you can effortlessly recreate the same look.
Shop The Dupes

Fernanda Paisley Lace Top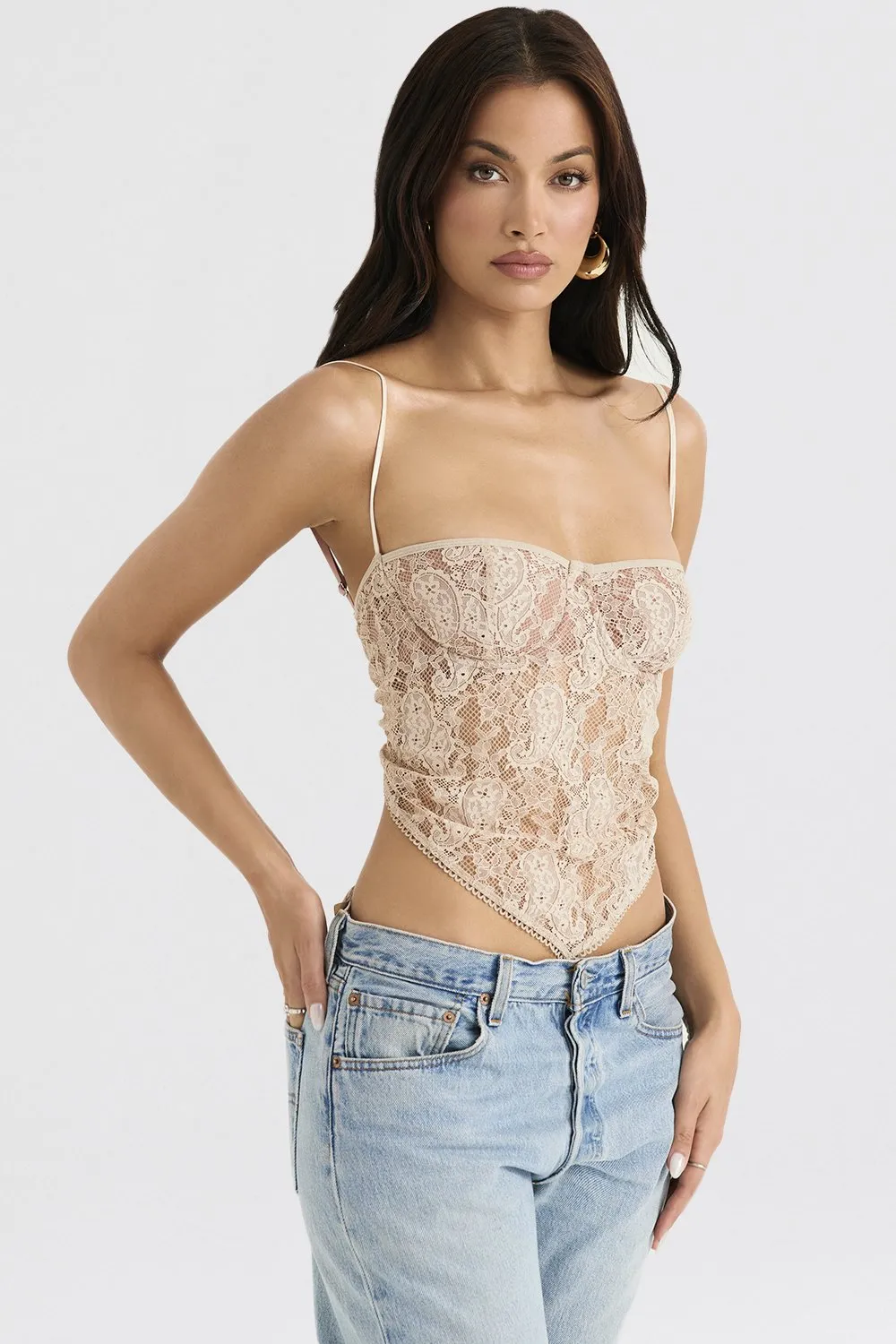 This is one trend I'm obsessed with at the moment. Lace tops and dresses are popping up everywhere and I love the way this Fernanda Paisley Lace Top is subtle but beautiful at the same time. It would be perfect for summer. I found a very close dupe to it below which I think I might grab just to give the trend a go.
Shop The Dupes

Jasmine Rose Pink Corset Dress
I couldn't get away with doing another one of these posts without covering a House Of CB pink dress, and this time it's the House Of CB Jasmine Rose Pink Corset Dress. Cute, sophisticated and a little flirty—this is a dress that has it all.
Shop The Dupes

Samaya Gathered Top
I'd love to know your thoughts and whether the Samaya Gathered Top has been overdone? I feel like little peasant tops like this have been on heavy rotation every summer and I don't know how many more iterations they can come up with. Anyway, because it's not a new concept, you can score some affordable dupes below.
Shop The Dupes

Una Corset Top
The Una Lace Up Corset Top is made from luxurious light sheen satin in a rich brown hue, making it look just that—rich. The delicate drape around the neckline adds a touch of elegance and flatters every figure. I've found some really similar dupes below, I was pleasantly surprised. In lighter colours too!
Shop The Dupes:

Samaria Corset Sun Dress
The House of CB 'Samaria' Dress is the ultimate one and done piece for all your summer occasions. This stunning dress features boning through the bodice to cinch your waist and a sweetheart neckline. I can just picture this being worn throughout the French countryside. I was asked on a previous post to provide House of CB Carmen Dress dupes, and I think these are also really similar.
Shop The Dupes:

Ariela Ruffle Maxi Dress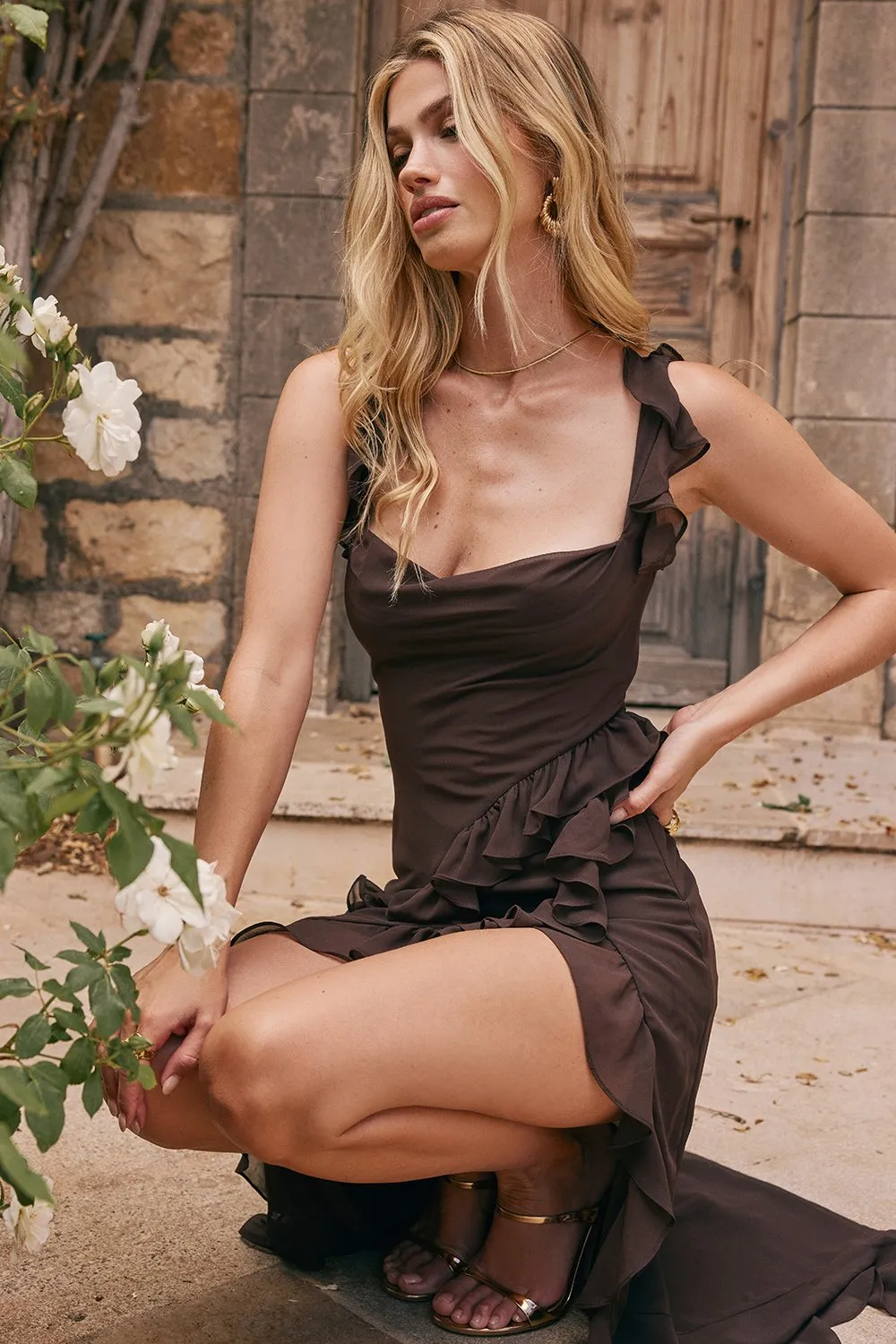 The House Of CB Ariela Dress is the epitome of elegance and sexiness. Adorned with fluttery ruffles, this dress effortlessly adds dimension to its ultra-flattering silhouette. This style is incredibly popular for 2023 and shows no signs of slowing down soon. With that being said, there are a heap of dupes that you can achieve the same look with. Check out some of my favourite picks below.
Shop The Dupes

Fashion should be accessible and doesn't have to cost a fortune. With these dupes, you can achieve that chic and luxurious look without breaking the bank. With that said, that's it for the third instalment of the House of CB dupe series.
I hope you've found some House Of CB Dupes for your favourite pieces! If there are any other pieces you'd like me to dupes for, just like you have before, make sure to leave them in the comments below and I'll go on the hunt.