Are you tired of staring at your closet, struggling to put an outfit together? That's when it's time to take it back to the basics. And, by basics, I mean the MVP of any capsule wardrobe – the white button down shirt. The best part, you probably already have one of these somewhere in your closet.
If you don't, I stick by three rules when buying white shirts: they have to boxy, slightly oversized and need to be thick enough that your can't see your bra. I found over the years that despite it being a basic, it's better to drop some cash on good quality because these are the ones that will wash up nicely and keep their shape.
Shop Capsule Wardrobe White Shirts

Once you've got your shirt, the possibilities are endless. So let's explore them all the different ways you can style a white button down – right through from day to night.
Blue Denim Jeans and White Shirt
When you're aiming for that classic, effortless cool girl look, this is the way to go. It's an outfit that's as classic as the white button down itself. This year, I'd pick a straight leg or even wide leg jeans to create a more sophisticated silhouette. Pair your white shirt with a pair of blue denim jeans and whatever shoes you want – sneakers, chunky loafers, sandals, you name it, it works.
Shop The Look

White Shirt And Shorts Matching Set
This screams European holiday. The white linen shirt and short co-ord is another all time favourite look of mine. It's my go-to for beach days along with a beach bag and some slides. Plus, it looks great undone over a bikini so you can go straight from the water to the bar.
Shop The Look

Layered Under A Blazer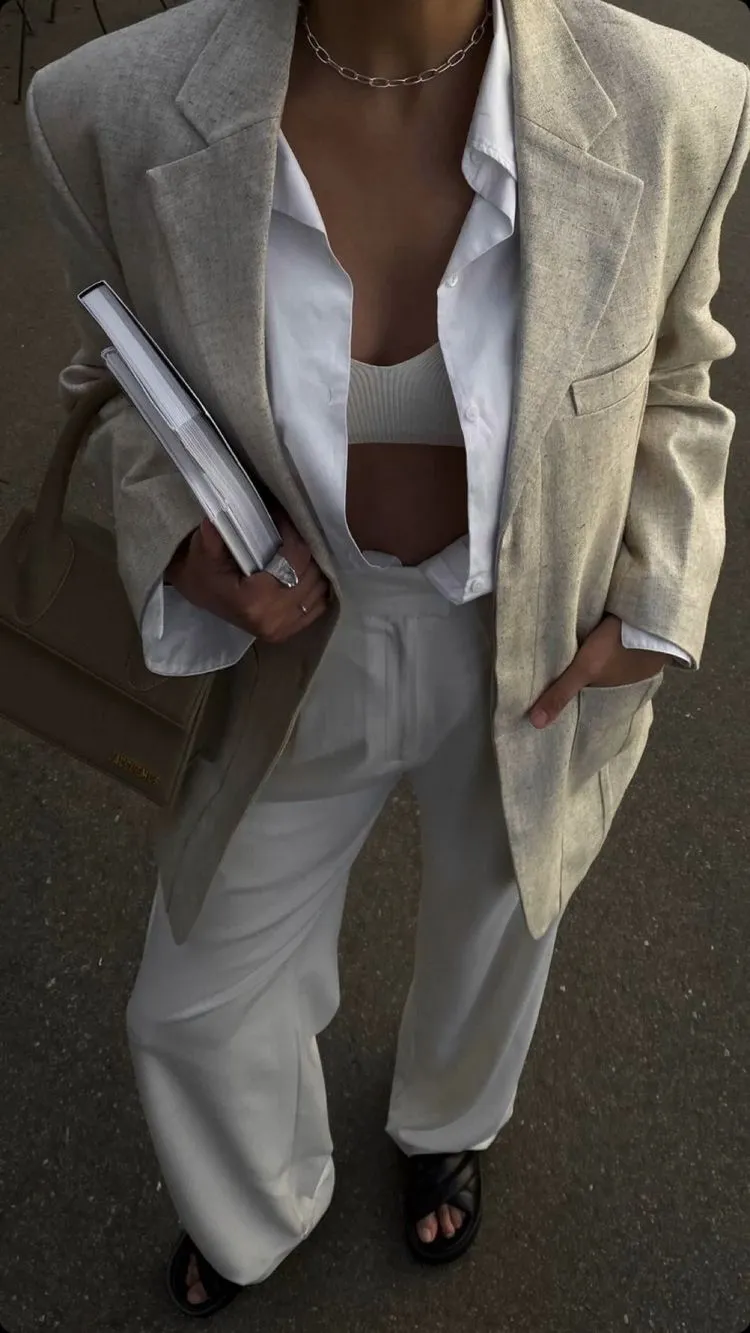 If you want to look sharp without looking too overdressed, then opt for a white shirt layered under an oversized blazer. It's an easy way to add a layer of warmth, while still looking chic and put together. Add a pair of jeans or trousers, and sneakers or slides to finish off the look.
Shop The Look

Tucked Into A Pleated Mini Skirt
Made popular by Miu Miu last year, the pleated mini skirt and white shirt combo is here to stay. It's a fun, streetstyle look that's easy for everyday. Whether you style it with high-knee boots or combat boots, sneakers or heels, it's a great way transeasonal outfit to try.
Shop The Look

Worn Open with A Belt, Trousers or Maxi Skirt
Take a left from Parisian style, the white shirt and white pants is a match made in heaven. Or if you want to embrace the current elevated basics trend, you can try a denim maxi skirt. This look works for any occasion, whether it be off to brunch with the girls or lunch with your parents. They key is to tuck it in and add a classic black leather belt for that timeless look, or open over a white singlet.
Shop The Look

Oversized White Shirt and Mini Skirt
A recent look I've seen all over Pinterest, and my personal favourite is pairing a white shirt with a basic mini skirt. I personally love the flowy satin skirt to create some contrast, but a neutral a-line skirt looks just as great (seen on Matilda Djerf above). It's such an easy was to look put together while still being comfortable, and perfect for shopping paired with sneakers or even day drinks with the girls with a pair of strappy heels.
Shop The Look

Make a Statement with a Mini Skirt
Veering away from the classic Parisian style, you can also try pairing your white button down with a statement mini skirt. I picture this been worn on holiday, roaming European streets looking for a place to eat and then on to drinks. This is another fun way to dress up a basic while still keeping that effortless vibe.
Shop The Look

There you have it, all my favourite ways to style a button down shirt. From classic jeans for casual days out to statement skirts for a night on the town – its versatility means you're never stuck for ideas when putting together an outfit and I hope these styling tips help you get some more wear out of this wardrobe staple!