Are you on the hunt for a vintage leather jacket but haven't had much luck? Same. It's taken me on a manhunt all over the internet, since our local op-shops are a bust. I blame the Miu Miu jacket going viral – everyone seems to be on the hunt.
The thing is, a well-crafted vintage leather jacket will never go out of style. Which is why when you find one you need to pounce, price-tag be damned. A vintage leather bomber or an oversized leather jacket, whatever your poison – they're something you'll keep forever. After many months of searching I've given up looking local and have scoured the internet for the next best thing. The criteria? It needs to be leather (or at least look like it), slightly faded and of course, oversized.
It has been surprisingly easy to find some good vintage leather jacket alternatives online. So, because I don't gatekeep, I thought I'd share my favourites here. Get ready to spend a small fortune though, these aren't cheap. Hopefully this saves you some time, and makes up for me wasting so much of mine.
Vintage Black Leather Jackets
There's nothing better than a classic black vintage leather jacket. I still have a faded leather gilet I got 8 years ago and it's one thing I'll never get rid of. You just know that no matter what fashion cycle we're in, it will always come back into fashion. I personally love leather jackets that have a contrast stitch on these. It set's them apart from the typical leather oversized jacket you can find anywhere. If you're into the classic vintage biker jacket you're in luck – there are some great ones I've listed below.
Shop The Look

Vintage Brown Leather Jackets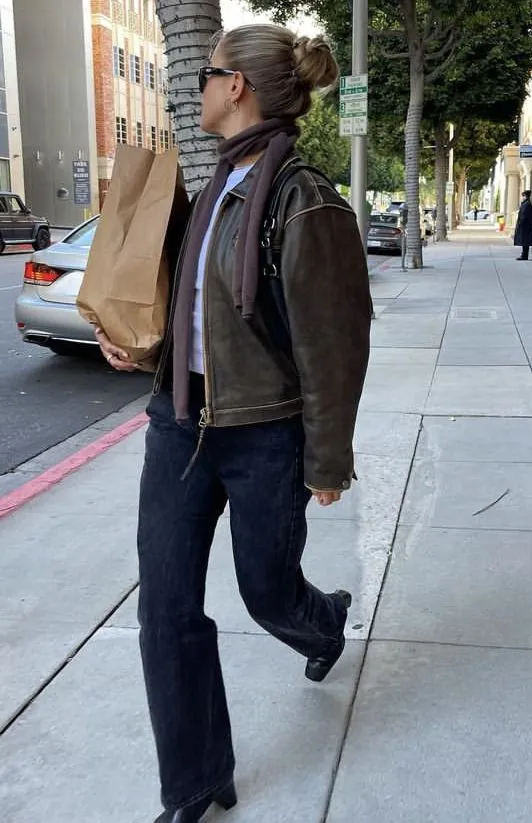 We all know how much I love brown – it's all I wear anymore. That's why, I have done some serious research to find the best vintage brown leather jackets. I can't tell you how many times I've searched "where to buy vintage leather jackets" online. Luckily, and according to TikTok, there are so many faux leather jackets that look on par with the regular. If you're not committed to spending a small fortune, I'd go for those.
Shop The Look

Vintage Leather Bomber Jackets
Bombers have had a massive comeback. I feel like every time I find a good leather bomber, it's sold out the next day, so that's saying something. If you're not into cropped leather bomber jackets, you're in luck – there are endless styles that are oversized but cinched in where you need it to be. Especially if you're shopping the mens aisle.
Shop The Look

Vintage 90s leather jacket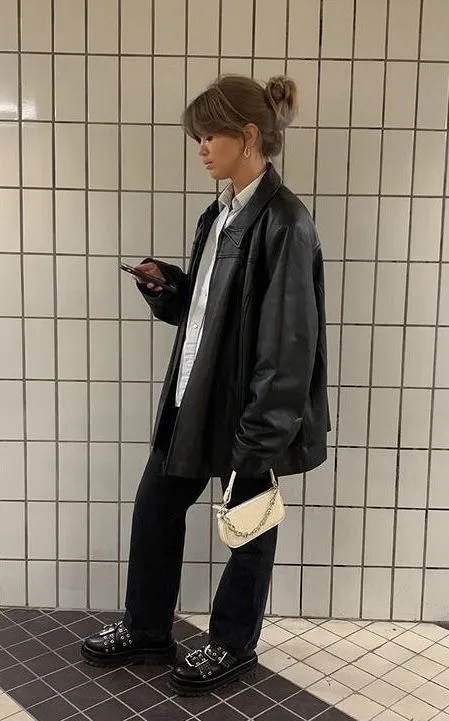 When I think of 90's, I think of the moto jacket. If a full moto jacket isn't your style, then it's all about the clean lines and lack of pockets. Think oversized leather blazers and zip ups. There's just something about these that looks so cool, and so very streetstyle.
Shop The Look

No matter what your personal style is, a vintage leather jacket is a one of those pieces you can't live without. The best part is there's so many to collect. From a leather bomber, to a leather jacket, even a leather gilet comes and goes in fashion throughout the years. So it's worth the investment now – even if it hurts your wallet.