It's giving wearing Chanel earrings and a Hermes handbag to brunch. It's giving long weekends spent soaking up the sun on the Mediterranean, summer nights sipping champagne in Monaco, and winter holidays spent hitting the slopes in the Swiss Alps. Rumour has it that old money style is the fashion trend to conquer in 2023. I blame Tiktok and Sofia Richie's magnificent outfits debut, but Pinterest is also a big fan. Either way, I'm going all in on adding the trending old money style to my wardrobe in 2023.
When it comes to old money style, there are a few key staples that are practically synonymous with this classic and timeless aesthetic. Linen is a must, particularly in light, airy colours like crisp white and soft creams. Polo shirts from heritage brands like Ralph Lauren or Lacoste are another essential. Or, failing that, a cashmere jumper thrown over the shoulders.
Accessories should be kept understated and elegant; think leather loafers, gold watches, and sunglasses from high-end classic designers like Ray-Ban. Blazers, tailored trousers, and smart button-down shirts are also typical of the old money style, as well as classic handbags in neutral shades like tan, black, or brown. Overall, this wardrobe is full of traditional, high-quality items that prioritise timeless elegance and refinement over passing trends.
In today's post, I'm sharing some tips on how to nail this classic look and make it your own. If you don't have the old money budget, these are affordable pieces are sure to help you look expensive on a budget.
Black Satin Shirt & White Denim Jeans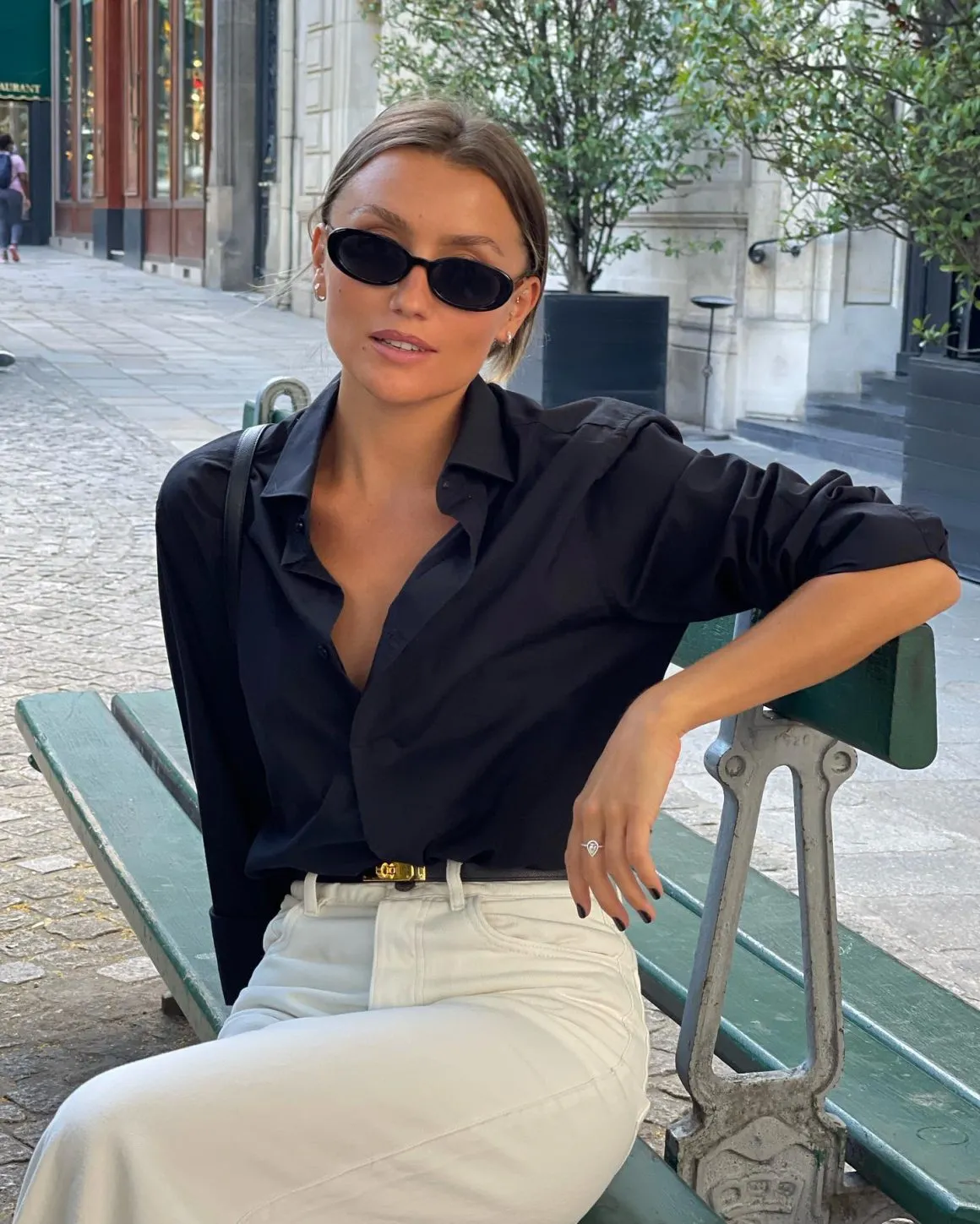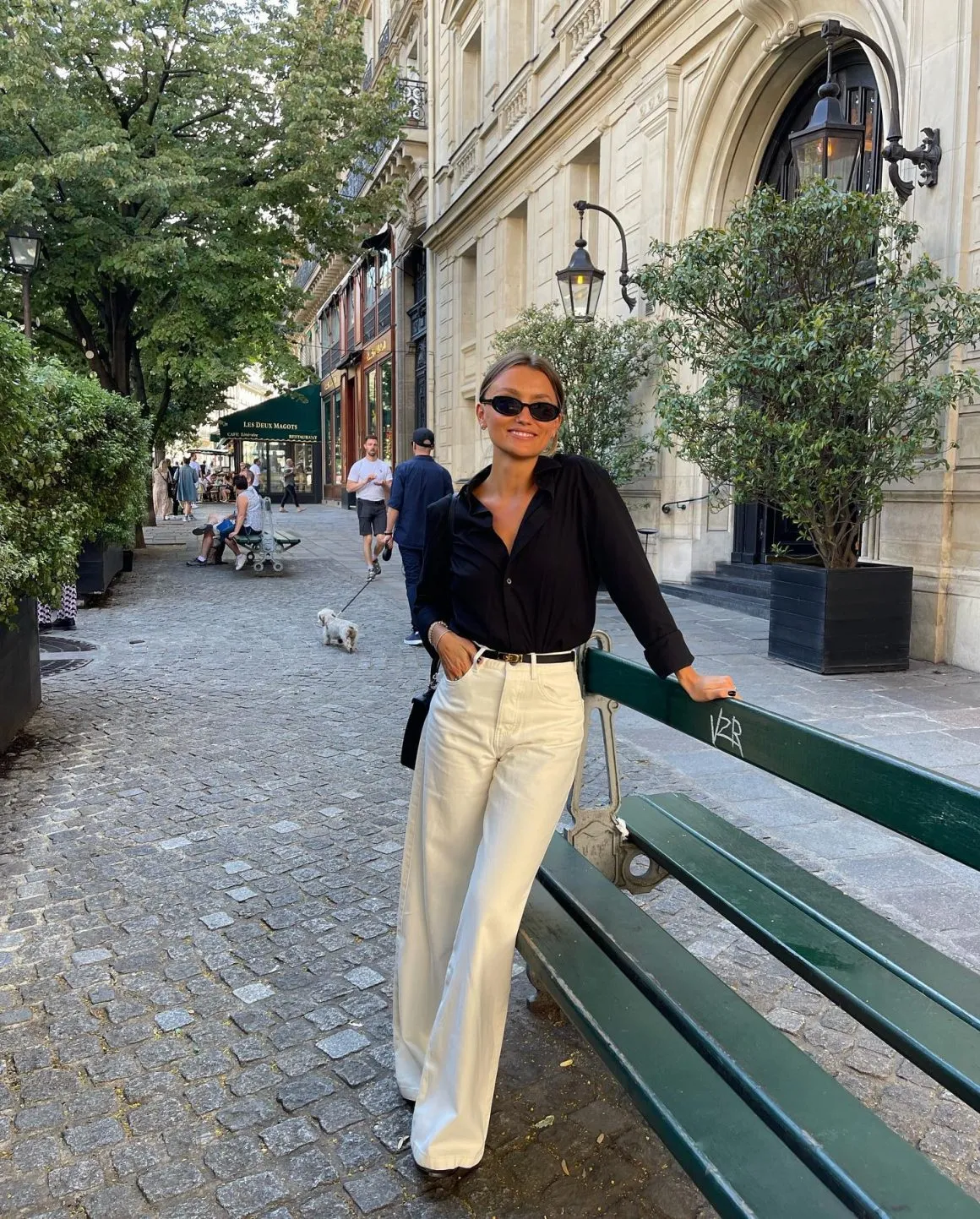 Starting off strong, a versatile black satin shirt offers a touch of luxury and sophistication to any outfit. Pair the shirt with white denim straight leg jeans; the light colour and design will add just the right amount of modernity to the outfit while maintaining a classic appeal. To create a sleek silhouette while adding a pop, cinch your waist with a skinny black and gold detailed belt. Finishing the outfit off with a black cross-body bag adds both sleek style and practicality. Whether you're running errands or spending an afternoon with friends, you won't miss a beat with this timeless look.
Shop The Look:

Classic Breton Jumper & Beige Tonal Staples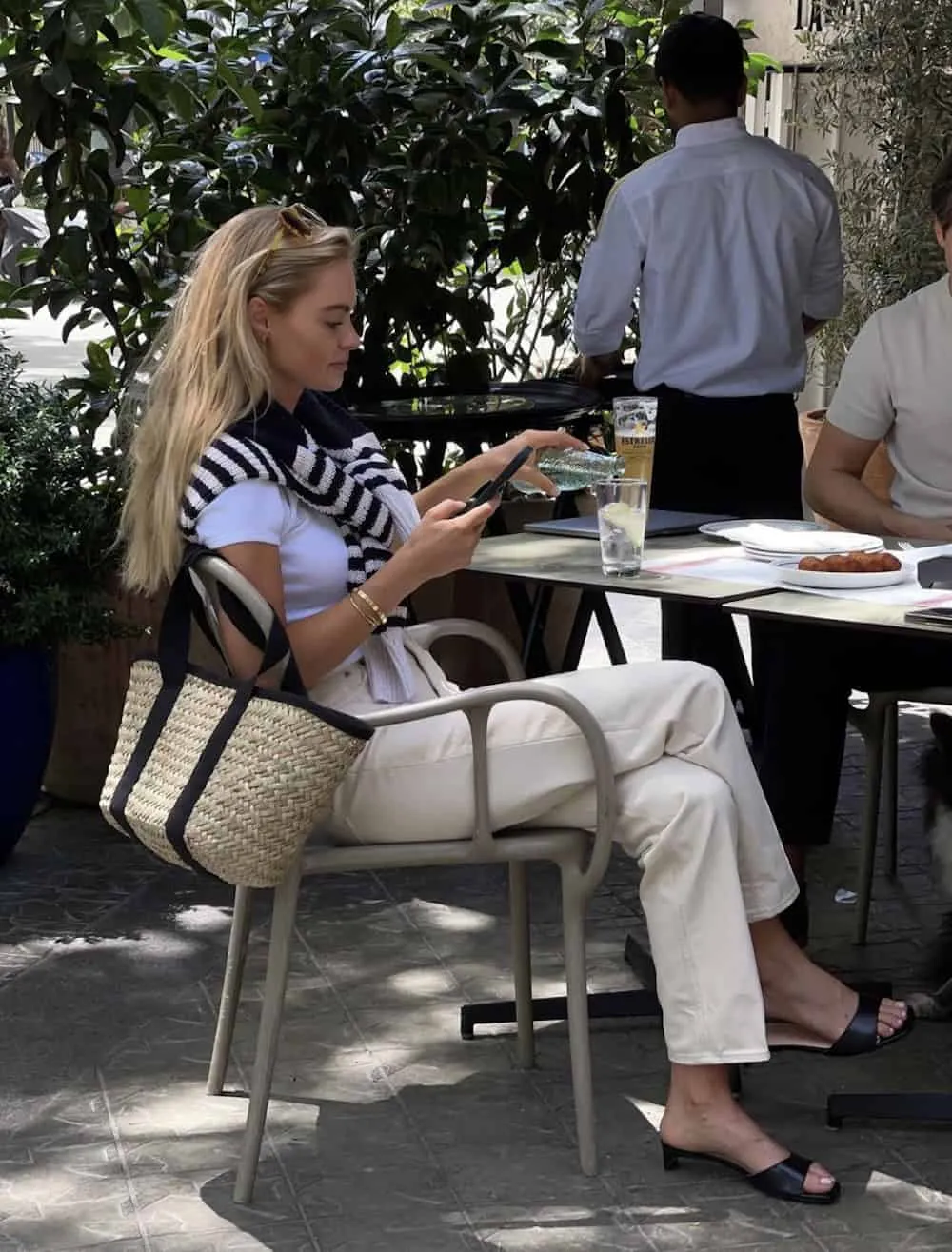 This ones make a perfect spring everyday outfit. To start, opt for a classic white t-shirt as your base, which is a versatile and timeless wardrobe staple. Pair it with beige denim jeans or pants. Next, style with a Breton jumper wrapped around your shoulders to add a touch of texture and depth, along with an oversized straw bag, gold bangle and classic black mules.
Shop The Look:

The Classic Chanel Suit
The unofficial uniform of the elite, alongside the Chanel handbag. Whether you opt for the classic tweed jacket and skirt combination, go for a more relaxed look with a contrast cardigan, or even a shift dress, this look exudes timeless elegance and sophistication with it's gold detailing. Tweed in particular is known for it's warmth and durability – making it a favourite among old money clans, who swear by its lasting quality and ability to withstand the test of time. Add some gold jewellery and you'll fit right in.
Shop The Look:

Soft Cashmere Paired With Structured Linen Shorts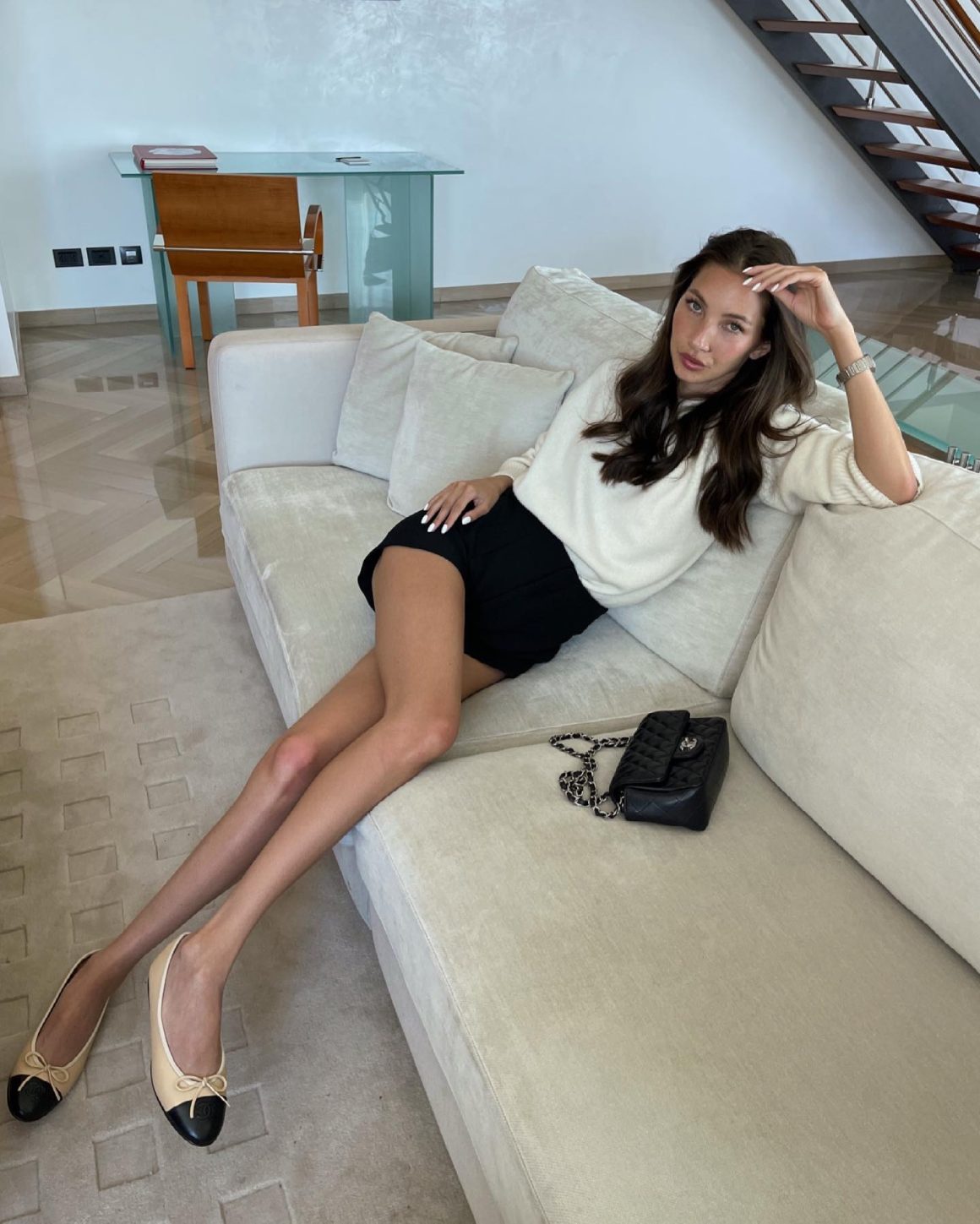 Perfect for casual daytime outings or brunch with friends, this look is a dreamy blend of classic design and a luxury Parisian flair. Start by pairing a soft cashmere sweater, then add some interesting juxtaposition with a pair of structured black linen shorts – both comfortable and practical. Then add a touch of feminine elegance with a pair of ballet flats. When it comes to accessories, keep them minimalistic. A gold watch, a black body bag and you're good to go.

Classic Elegance And A Polo Shirt
This is my idea of an outfit you'd wear to leisurely watch tennis, followed by a cocktail. Taking a detour from very minimal old money outfits, here's how you can embrace colour. The key is to add soft pastels that will compliment an otherwise monochromatic outfit. Start off with a coloured polo like above, and pair it with a white structured minimal skirt. Add a matching chunky headband straight out of Blair Waldorf's wardrobe, a white handbag and a pair of statement gold earrings for good measure.
Shop The Look:

The Stripes, White, and Brown Uniform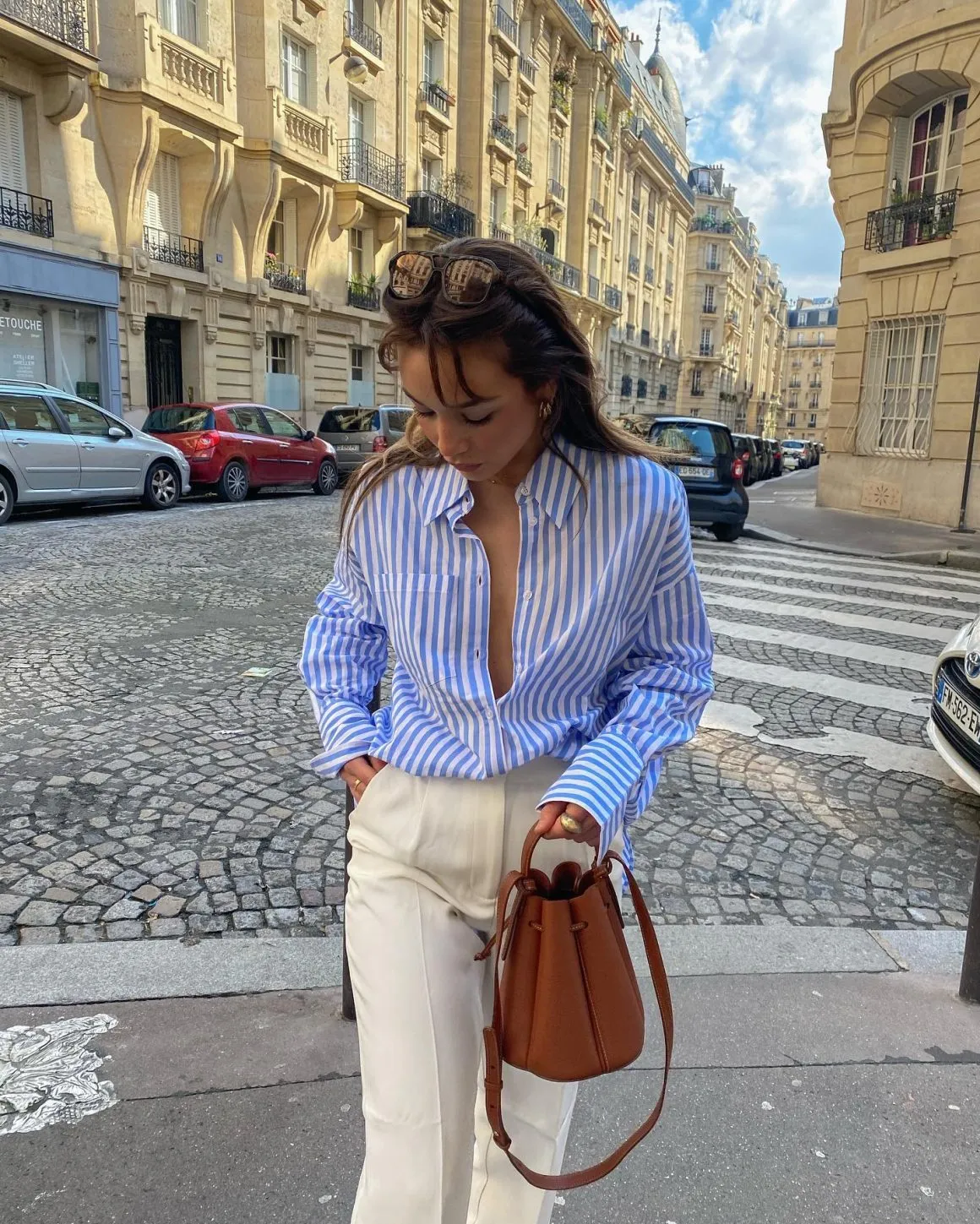 A timeless outfit will always be a blue and white stripped shirt paired with white trousers and a brown bag. It's a look that will never go out of style. Pair this with basic white sneakers and you're ready to grab lunch with the girls.
Shop The Look:

Chanel-like Tweed Jacket & Loafers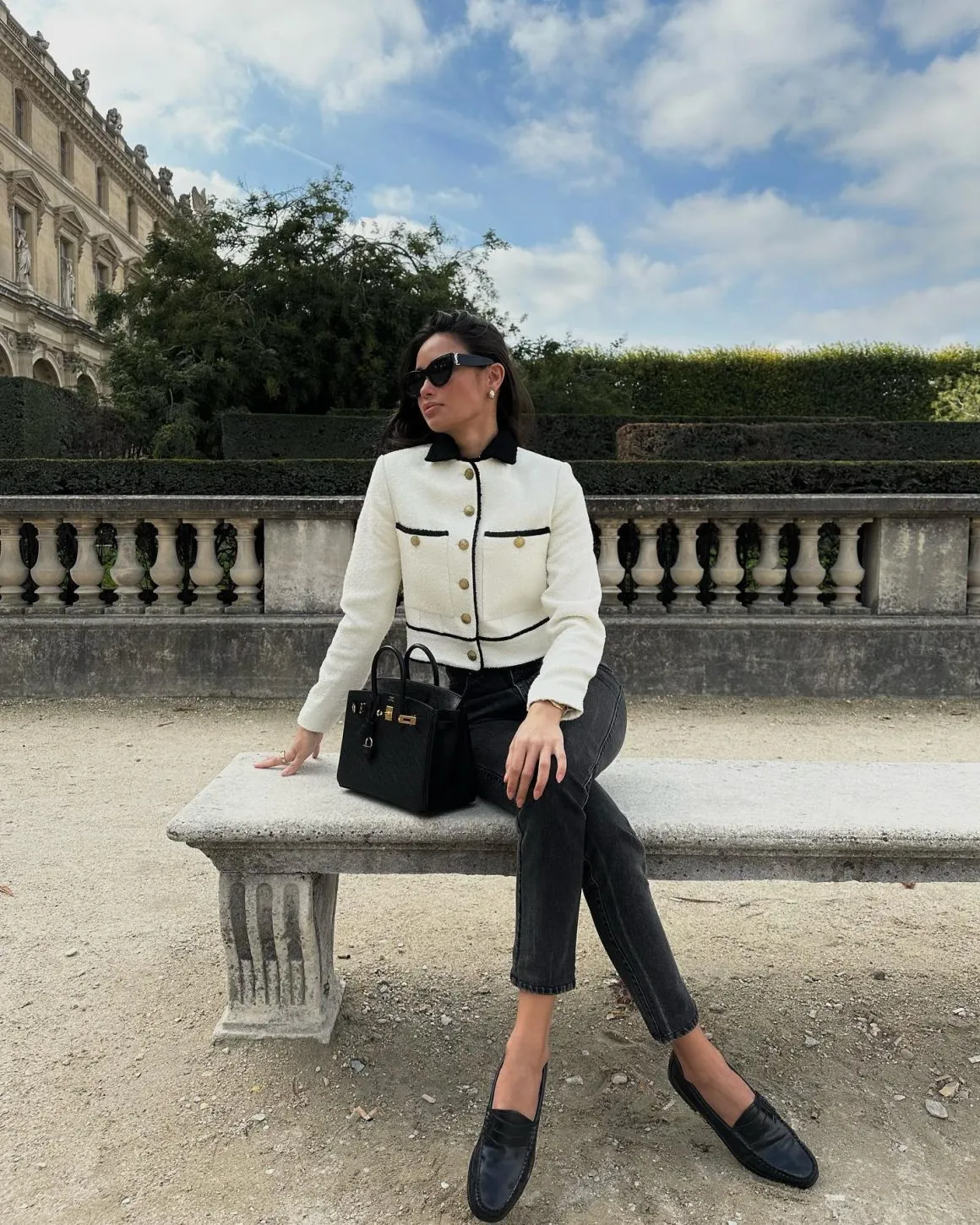 Last, but certainly not least, is the absolute classic old money style outfit. It's got the tweed jacket, it's monochromatic, and it's classy and yet understated. While this jacket from Anine Bing is sold out pretty much everywhere, I did manage to find some cheaper alternatives for you to shop below.
Shop The Look:

All in all, dressing expensively doesn't always have to come at a high cost. By taking some inspiration from the old money style, you can effortlessly exude elegance and sophistication without breaking the bank. The six outfits are perfect examples of how you can achieve the luxurious look without spending too much. It's all about investing in good quality classic staples and accessories, then styling them uniquely to your taste.