If 2020 brought us anything, it's Hailey Bieber's iconic style. Hailey Bieber is one of my favourite celebrities in terms of fashion, absolutely dominating my Pinterest style boards. Her street style looks are laid back minimal, but always with an added edge and topped off with her signature gold hoops. Effortlessly cool and wearable – no crazy cut-outs, sheer tops or pieces that are only made for the 'gram in sight. Since her outfits are so relatable, I thought I'd kick off the year with a Look For Less: Hailey Bieber edition.
Calling all girls on a budget, this post is for you. One of my big goals for 2021 is to save on clothing because house prices aren't getting any cheaper, so starting with a more strategic wardrobe is a must. I've collected 10 of my favourite and iconic Hailey Bieber outfits from previous years and below you can shop the more affordable versions of each. If anything, I think this post shows that you really don't need to drop thousands to have great style. Especially since you probably already own similar pieces. With that being said, let's get on to the good stuff.
If there are any outfits you'd I've missed that you would like me to cover, leave me a comment below and I'll add them in!
10 Hailey Bieber Outfits For Less
Cream Satin Set & Bum Bag
Shop The Look:

Hot Pink Slip Dress & Shirt
Shop The Look:

Leather Blazer & White Boots Outfit
Shop The Look:

Black Singlet & Leather Pants Outfit
Shop The Look:

White Suit Outfit
Shop The Look:

Jacquemus Knit Set & Jeans
Shop The Look:

Black Satin Suit & Vans
Shop The Look:

White Oversized Shirt & Cut Offs
Shop The Look:

Oversized Cardigan & Knit Skirt
Shop The Look:

Brown Three Piece Suit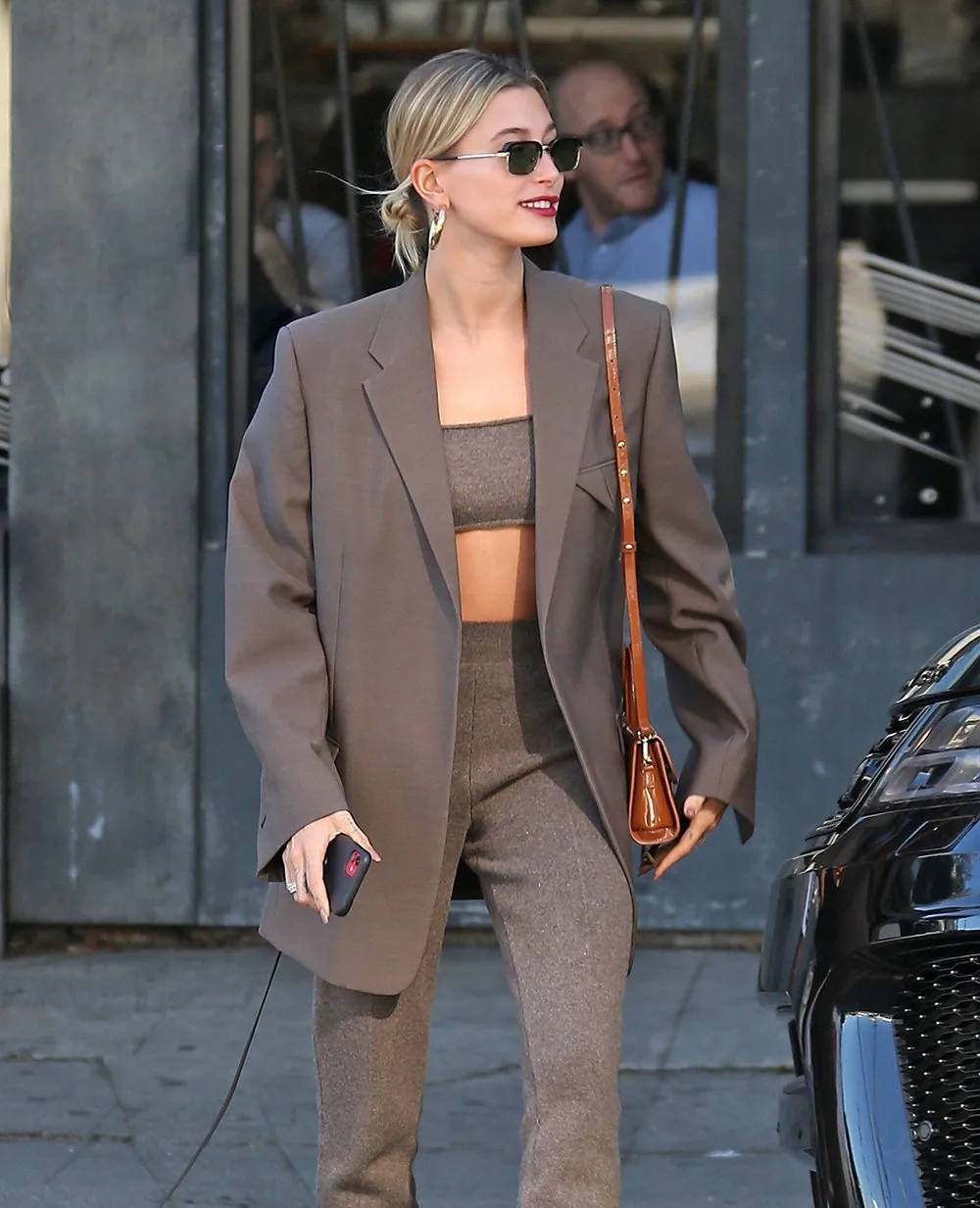 Shop The Look: