You know I'm a sucker for an Instagram favourite and Summer Fridays is THE definition of this. Created by bloggers Marianna Hewitt and Lauren Gores Ireland. Summer Fridays has become wildly popular with beauty enthusiasts worldwide since it's 2018 inception. Originally the whole idea came about when they both craved a face mask that would save their skin from jet lag (AKA the Jet Lag Mask), and now the line has grown to three, targeting different needs.
In my collection I currently have the Jet Lag mask (which you know is coming with me to Europe) and the Overtime Mask. The third mask which I'm missing is the R+R Mask. I believe it hasn't launched in New Zealand yet but looks pretty and it's pink.
Despite the images I actually have used each quite a few times already. A little sure does go a long way. Since I had so many people ask me about these products, and whether they were worth the $76-83 dollar price tag, I thought I'd dive in and give you my honest opinion on both.
Summer Fridays – Jet Lag Mask
"You don't have to be a jetsetter to have that lag. Upgrade your skin to a business-class complexion—no matter what time your red-eye gets in, or what time your head hits the pillow."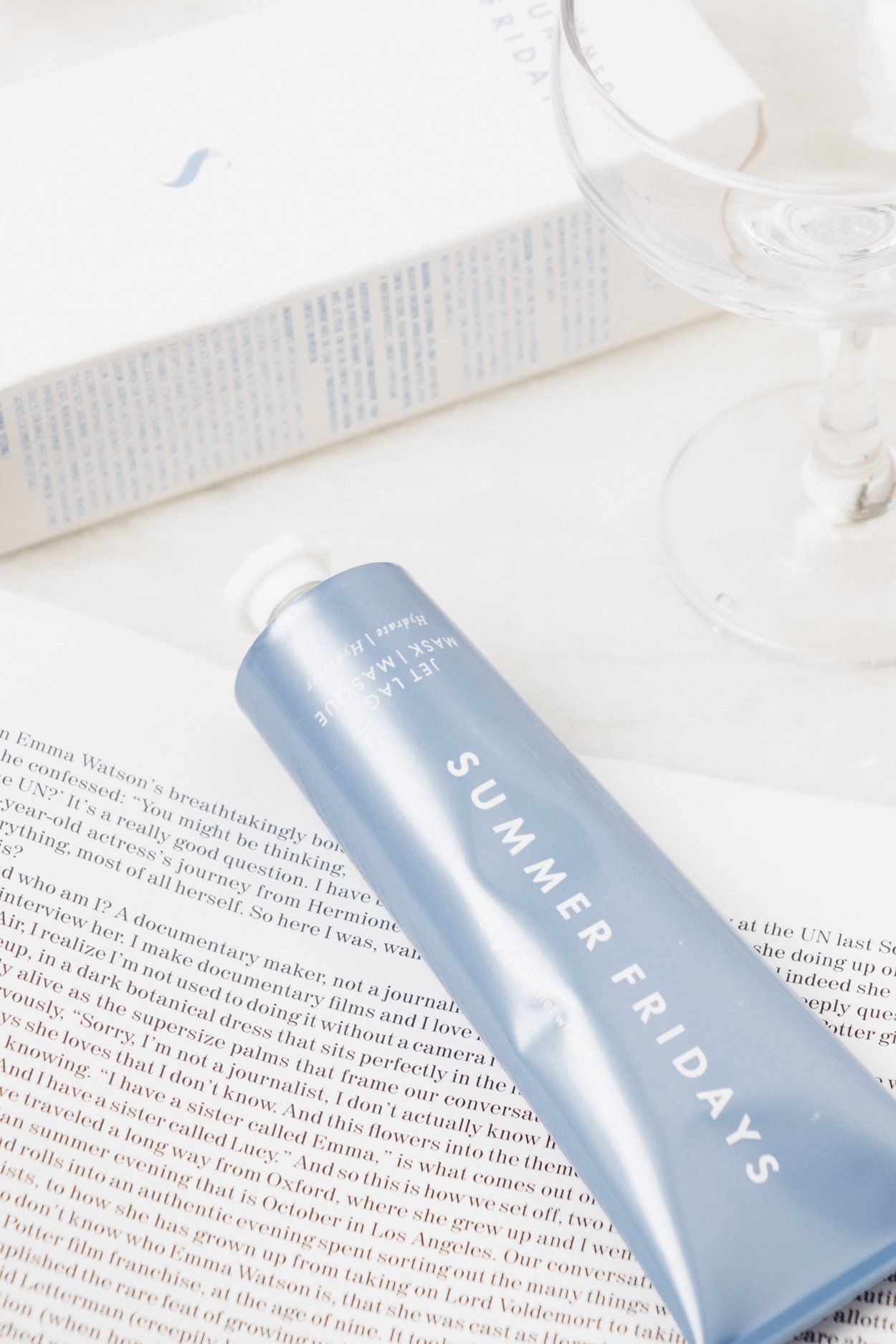 The first mask of course is the famous Jet Lag Mask. I'll start off by saying that the packaging just sells me every time. You can never go wrong with a beautiful product on your shelf. I love the twist cap and tin (is it tin? you know what I mean) sleeve makes it easy to get every last drop of this mask out. The formula comes out white/clear and applies really smoothly and has a slight peppermint smell.
The first couple of times I used this I didn't leave it on for the full 10 minutes. You're meant to only blot it off but I found it a little overwhelming considering my skin isn't very dry at the moment. Come winter though you know that it will be coming with me everywhere. I think this really is a great mask if your skin is looking a little dull, dry and just needs a boost of moisture. At $83 is does come with a very boujee price tag and honestly, if you can't afford it you can get a similar effect with an oil or thick moisturiser. I do feel like if you travel a lot though this might be a nice treat for yo'self – especially since it's travel friendly. No leakage here.
I'm a big fan of Origins Drink Up Intensive Overnight Mask during winter but I ran out of that a long time ago, so I feel like this will be a nice replacement. Is it weird to look forward to switching up my skin care just because it's colder? Well I am right about now. Good bye oily skin, I never liked you anyway.
"A brightening and clarifying mask that works over-time so you don't have to."
I only got the Overtime Mask a week or so ago and I've already had it on heavy repeat. I'm a exfoliating fiend so this was going to be a favourite from the get-go. It features the same packaging as the first (except a pretty orange shade) and smells similar. It weirdly kind of reminds me of the smell of Deep Heat which I love.
Anyway, this mask contains exfoliating apricot seed powder to scrub away dead skin, leaving you with luminous smooth skin. You're meant to apply this mask, scrub gently for a couple of minutes and leave for 10. It actually feels kind of similar to the Jet Lag mask, leaving your skin hydrated once you've rinsed it off. Personally if I was to choose just one of the masks I think this would be it – it feels like you get the best of both in one. I love using this before a night out because it leaves your skin prepped for flawless foundation application.
Overall I really love this mask. It is gentle, leaves your skin feeling fresh but doesn't strip any of the moisture which is hard to come by with exfoliants. I feel like this would be your Sunday night go-to when you want to start the week fresh. Just a great staple to take with you for any occasion.
So, is it worth the hype?
In my opinion I'd say yes, but only if you have the money. It's definitely a spendy purchase but it is a really lovely formula and clearly looks after your skin, rather than stripping it of moisture. You only need a small amount of both so you do get 'bang for your buck'. Think of 'Jet Lag' as your Saturday "I'm going to be productive" and Overtime as you're "I'm hungover on a Sunday sesh" vibe. I personally love the Overtime Mask the most because it does such a good job of refreshing your skin, but ever so gently. Overall, they're both great skin care staples and I don't think you can go wrong with either.