Years from now, the latest generation will be channelling 2024 fashion trends – but what exactly will that be? Even now, it seems crazy that we talk about the 90's as though that period is so far out of reach. What is even crazier, is that I can see now how circular fashion is—especially when half of these trends I remember wearing when I was a teenager.
So, what trends does the new year hold? Well, a lot of continuation. Of feminine dresses and the resurgence of red hues in particular (red hot, if you will). But there's a whole lot of newness coming through too. More on this later.
Maybe it's the 90's child in me, but for once, I think the trends of 2024 are pretty wearable. It's not often that the high fashion trends filter day into everyday life, but this year there is a definite shift towards more practical pieces. Bye bye, fast fashion. That's not to say that there aren't any statement pieces, but they're being paired with more understated, versatile items.
Whether you're walking into summer, wrapping up for winter, or jumping into autumn or spring, these 2024 fashion trends are ones to try now or come back to whenever you're stuck for ideas.
The New Peplum
Hold on tight everyone, you read that correctly. I know, I'm in disbelief myself. It wasn't too long ago that I can remember wearing the car crash that was peplum tops over jeggings thinking I was the definition of cool (a la Lindsey Lohan and Paris Hilton circa the early 2000s). Back then, it was probably the closest I could get to emulating their style because online shopping didn't really exist. Now though, peplum hems are making their way back into heavy circulation. And at arms reach, no less.
Now I know what you're thinking—how the hell did this happen? New age tailoring, that's how. Instead of what we know peplums to be, this era will be all about feminine accents. They're much more sculpted, added at the bottom of corsets and off-the-shoulder tops, and less about the fit and flare. It's not the main event, accenting the female figure just the way you'd want. Rather, it's subtly at its finest.
Shop The Peplum Trend

The return Of Red
It's back, baby! 2024 is set to be the sauciest year yet, with the forecast being red hot. If you've been here a minute, you'll know that red is a colour that has never really gone away. But this year, it's coming back in full force with bold and various shades dominating and with that, more selection. I still can't get the TikTok famous blood-red pointed heels from Mango out of my head. Don't you hate when you find something you love, and it's already sold out? Same—that's why I'm excited to see this trend is sticking around.
Now, mind you, I had made a conscious effort to steer clear of what everyone else on the internet was referring to as "Tomato Girl Fall." I'd grouped it into the food aesthetics category plastered all over Pinterest. Blueberry milk nails, Latte make-up etc. But now, I get it. Red is a mood. It's edgy, and it's versatile and is in a league of its own. Think Hailey Bieber's red mini dress or the beloved red lace maxi dress. Simply, iconic.
Shop The Red Trend

Elevated Basics
Basics are officially not boring. It feels like this name has been circling for years. Even in my Christmas party outfit post I previously wrote I wasn't quite sure what to call it. But I guess, this truly is the year of basics being elevated. What used to be a plain white t-shirt and jeans is now an asymmetrical top with low-waisted suit pants. Fancy flats are your go-to shoe because you can't even stomach wearing heels out anymore. Or you've swapped them for the man-repeller, more bearable, kitten heel. You get the gist.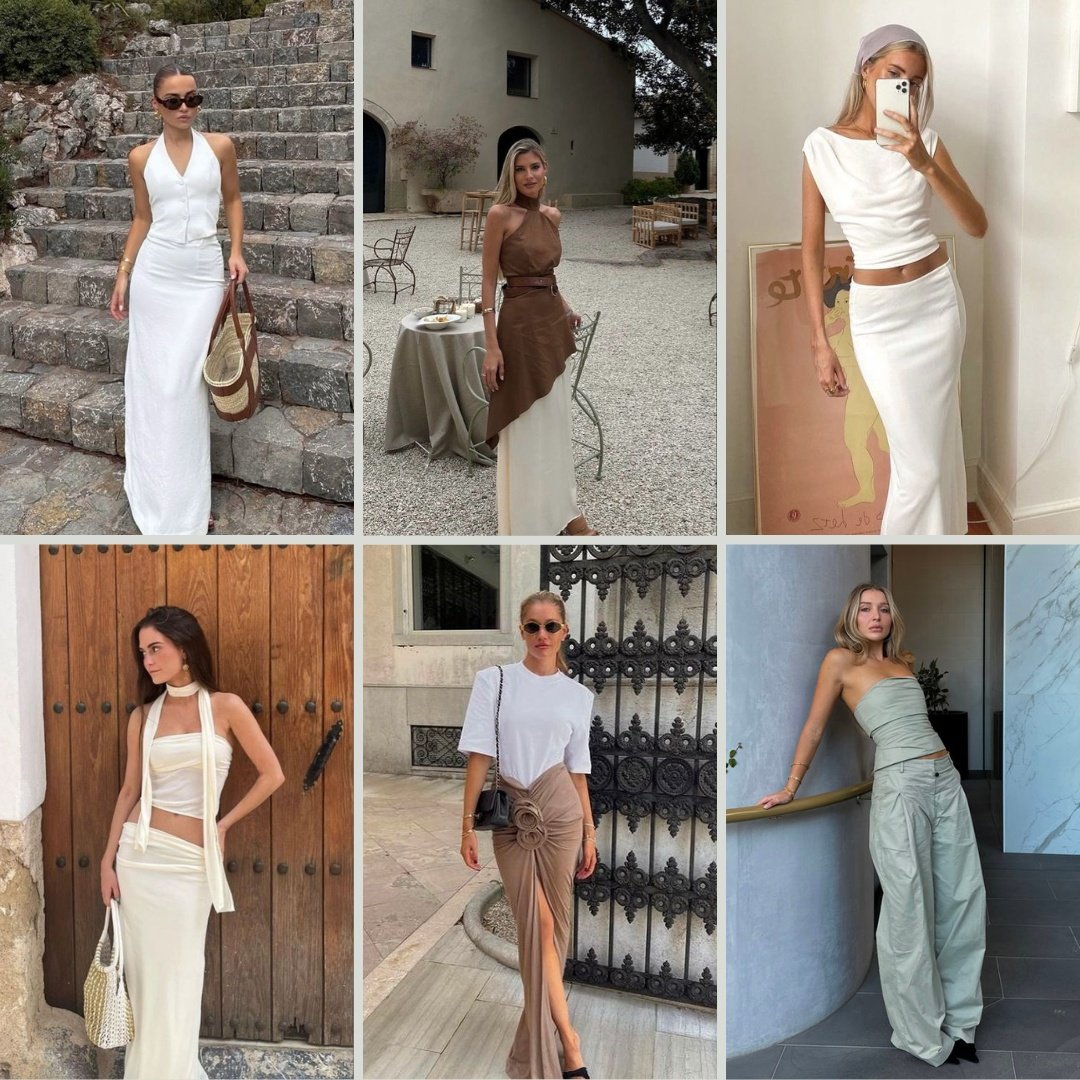 Elevated basics embrace the effortless "thrown on and go" vibe of an outfit while wearing more luxurious and tailored pieces. Think of higher price points and clean lines. This trend is perfect for those who love a minimalist style but want to add a 'sprinkle sprinkle' of sophistication and elegance to their everyday look.
Shop Elevated Basics

Soft Romanticism
Soft, romantic and slightly French—yep, we're talking about dressing for the female gaze. Also known as soft romanticism. Maybe it's very 2024 of us, but dressing for the lads is out. Dressing for yourself is where we're at. After all, we've dressed for them far too long.
Jokes aside, this trend comes at a time when the word 'sexy' has taken on a new meaning. There's no need for tight dresses and sky-high heels when romanticism can be show-stopping with simplicity. From rosette appliques, ruffle trimmings, (aforementioned) lace, perfect pleating, bow detailings, slip dresses, and ruffles—lots of them. This trend is grounded in the details. It's about embracing the feminine side without overdoing it.
But how? Focus on finding pieces that make you feel confident and beautiful. And, as an added bonus, they'll be perfect for those (hopefully) hot summer days spent at outdoor cafes or picnics in the park.
Shop The Soft Romanticism Trend

Sheer Coincidence
It's no coincidence that sheer is back in fashion. Not mesh though this time—this time is all about quiet luxury. Think mixing satin and silk with subtle sheer panels. Leaving not much to the imagination, but in the most tasteful manner. A sheer top under a blazer paired with high-waisted pants? Yes, please. Or how about a sheer dress over the right underwear? SUBLIME! IKYYK.
Sheer adds an element of sensuality to any outfit—the perfect contrast from rich satins and structured suiting. Bringing depth and dimension to an outfit while being fun to style. Not only that, but sheer fabrics are also perfect for layering, allowing you to create a variety of different looks with just one piece if you're willing to try.
I personally love the way that Christopher Esber has taken the lead on this with his last collection. The way he pairs the contrasting fabrics and draping makes each piece something striking. Sheer is also great for those who want to show off their figure without being too revealing or provocative. It's all about finding the right balance.
Shop The Sheer Trend

A Little Bit Of Lace
Lace is another trend that has been around for a while, but it's not going anywhere anytime soon. It's being elevated to new levels with the use of different colours—including red. When I think of lace, I think of a horrid bodysuit I owned at high school, when neither lace nor bodysuits were in fashion. Now though, there are so many ways you can incorporate it into your wardrobe that don't look tacky or nod to weddings.
As we move into the depths of 2024, there will be some new(er) styles emerging. For the feminine girl, there are soft lace dresses and peek-a-boo detailing. If that's not your taste, there are the more structured lace trousers you can style with your corporate blazer for the nighttime. Or, if you're a basic TikTok fan (who isn't?) like me, you'll be happy to know those lush maxi dresses are here to stay.
The thing about lace is that it can easily go from elegant to spicy with just the right styling. In a way, and depending on the piece, you might want to take a leaf from elevated basics styling. In short—it's all about the accessories. A pair of stunning gold earrings and elegant pointed kitten heels scream Parisian style. Or, you can double back with some biker boots and a leather jacket. In a way, the styling makes wearing lace unconventionally easy.
Shop The Lace Trend

Drop Waist
Maybe you can tell, but I am swaying towards the romantic trends this year—drop-waist silhouettes included. This one is straight out of a how-to-be-French guide. Let's be honest though, Parisian style has always been the best.
When I first saw this trend I was curious and confused—is two-toned also back for good? While I love it on some pieces, I think I'll always be scared by this half-black, half-white pleated skirt my mum and I once fought over. Then, I saw the drop-waist trend on the Parisian fashion Encyclopedia Danielle Copperman and now I get it.
This is nothing entirely new. The House of CB Marcy dress has been doing the rounds on Pinterest for months. What is new, to mainstream fashion at least, is the curvy drop-waisted dress. It's not quite 20s flapper (definitely not that straight), and it's not too Parisian to wear outside of France. It's simply sophisticated—modern too.
Shop The Peplum Trend

Some styles come and go, but a few survive beyond a year. What I adore about all of these? They will be the trends that survive, I promise you. Whether you occasionally dip your feet into the trends pool or live by it, there will be something you'll no doubt end up with throughout the year. I recommend it. Come on in—the water is nice.