After a very long hot summer, I'm ready for the new season. Autumn has always been my favourite, especially when it finally gets cold enough to wear pants out – but isn't too cold during the day. I brought this Zara waistcoat vest + trouser set months ago and I can't wait to finally be able to wear it. I think it's safe to say that I'm not built for the heat (I have been wearing my bikini around the house simply because I overheat), so the drop in temperature will be a welcomed change.
Speaking of suit sets, I'm OBSESSED. It's a trend that has been around a while now, and it looks like it's here to stay. The best part a waistcoat suit is that both pieces can easily be styled separately. I know this will look great under a coat once winter arrives too, but it can also been worn now in spring for those of you in the northern hemisphere.
Shop The Post:
Dylan Kain Rhea Bag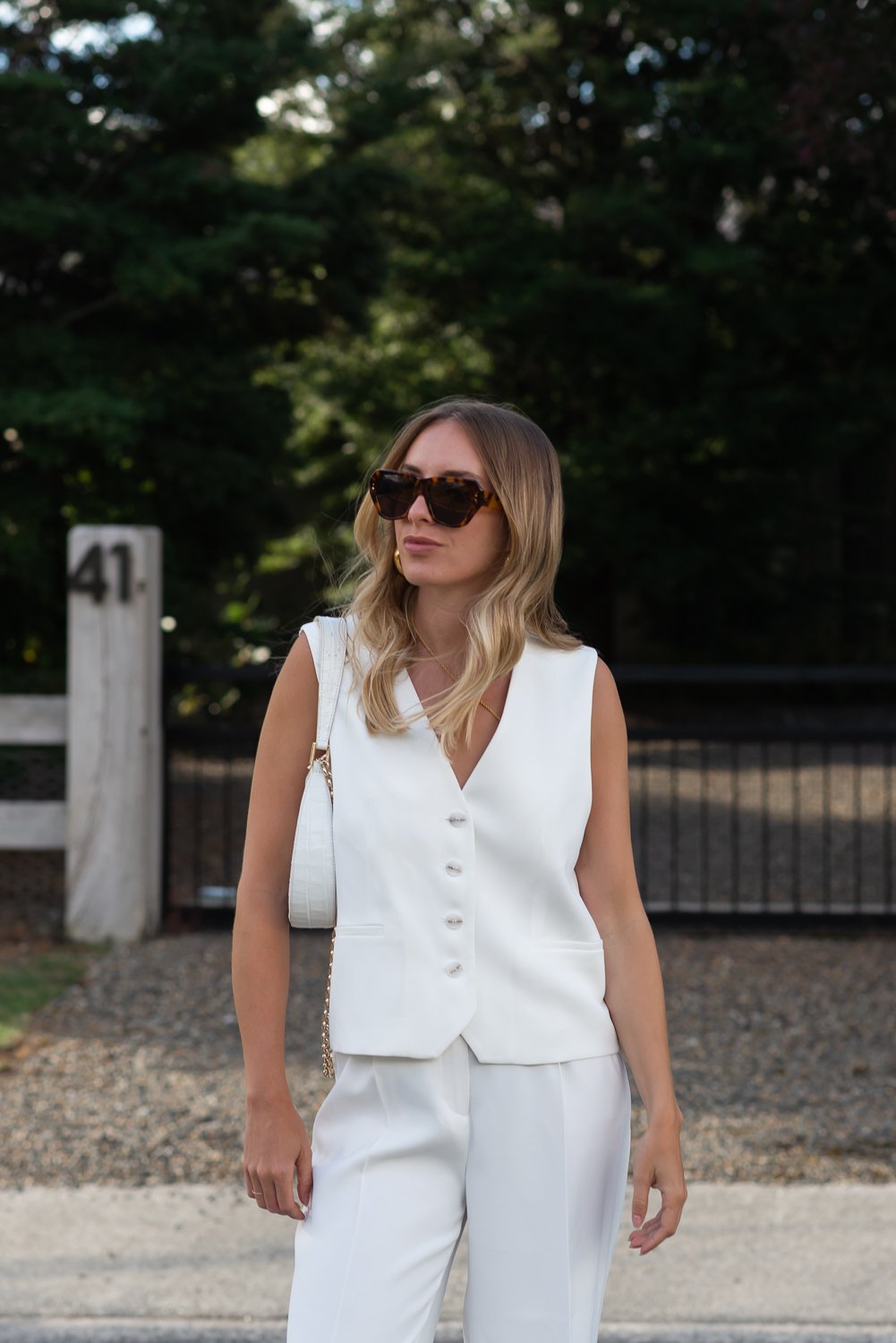 I'm currently posting this from my family home in the South Island, which I've been parked up at for the past week. As I said in my last post, I think it's important to go where you're most at peace and being able to come back here is a good way to get a better perspective on things. I've been so bored and uninspired living in Auckland lately, especially with Covid clearing the city out. I'm hoping the break somehow reminds me of why I still live there. Or at very least, inspire me to not be so lazy. Sometimes a change of scenery is all I need, and this past week has been nothing but glorious.
Speaking of change, I have been buying clothes like crazy in an attempt to revamp my wardrobe. Do you ever just look at what you own and hate it all? Because, I did just that before I left and have decided it's time to start fresh. It's easy for me to get carried away when I'm working with so many brands, and then I look back and think – none of this is me. This season I want to invest in better items that I can style easily from autumn, right through into spring, without them going out of style.
On that note, I need to get back into my normal blogging routine once again. I took a big break because I was travelling, I changed jobs and I had completely run out to steam after all my freelancing. Now, I've freed up a lot more of my schedule so I can dedicate more of my time to the thing I love most. Creating content.