Miu Miu's led the 2023 shoe trends. It started with everyone coveting their timeless ballet slippers, and now, it's their heavy hardware, Miu Miu Sienna biker boots that have every fashion girl in a chokehold. With good reason though – as the seasons shift, moto boots effortlessly bridge the gap between your beloved summer wardrobe and the cooler months.
How? In perfect juxtaposition, they are a great way to add an edgy twist to any pretty summer outfits, while also channelling that model off duty. Just picture wearing a pair of chunky biker boots with a Parisian-style lace slip dress. Or, your favourite satin skirt and lace top. Then, when the temperatures truly drop, you can add your favourite cardigan and tights. Whether it's the classic buckle detailing, the sturdy construction, or the rugged charm, biker boots offer a versatility that no other shoe does.
Sound good to you? If it does, keep reading to see my top ways to style biker boots outfits for fall.
Where To Buy Biker Boots For Fall
Before we get started, we need biker boots for the outfits. Here are all my top picks of biker boots for fall that I've found. Luckily, a lot of these options look similar to the Miu Miu Sienna biker boots and are on trend, but are under the hefty $1500 price tag those come with.
Shop Biker Boots:

4 Ways To Style Biker Boots For 2023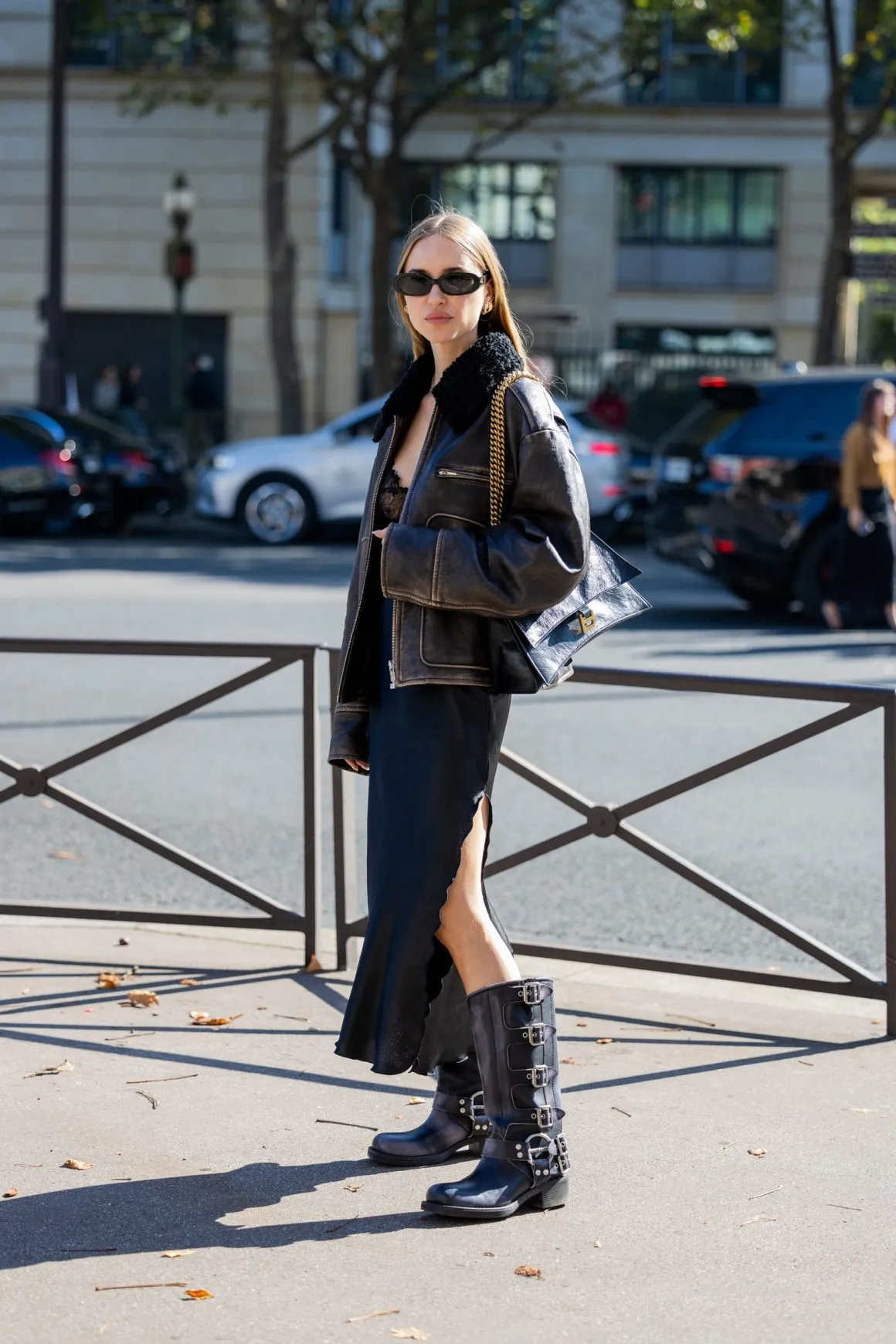 One of the best ways to style biker boots for fall? By pairing it with 2023's biggest trend—an oversized, worn vintage leather jacket. Luckily, they've been doing the circles and are easy to pick up. I found one on sale at Zara recently, so it's worth a look if it's getting colder in your area.
Underneath your vintage leather jacket, add a dainty slip dress with a side slit. Add a pair of my current favourite oval sunglasses, and a chunky bag to finish this model off-duty look.
Shop The Look: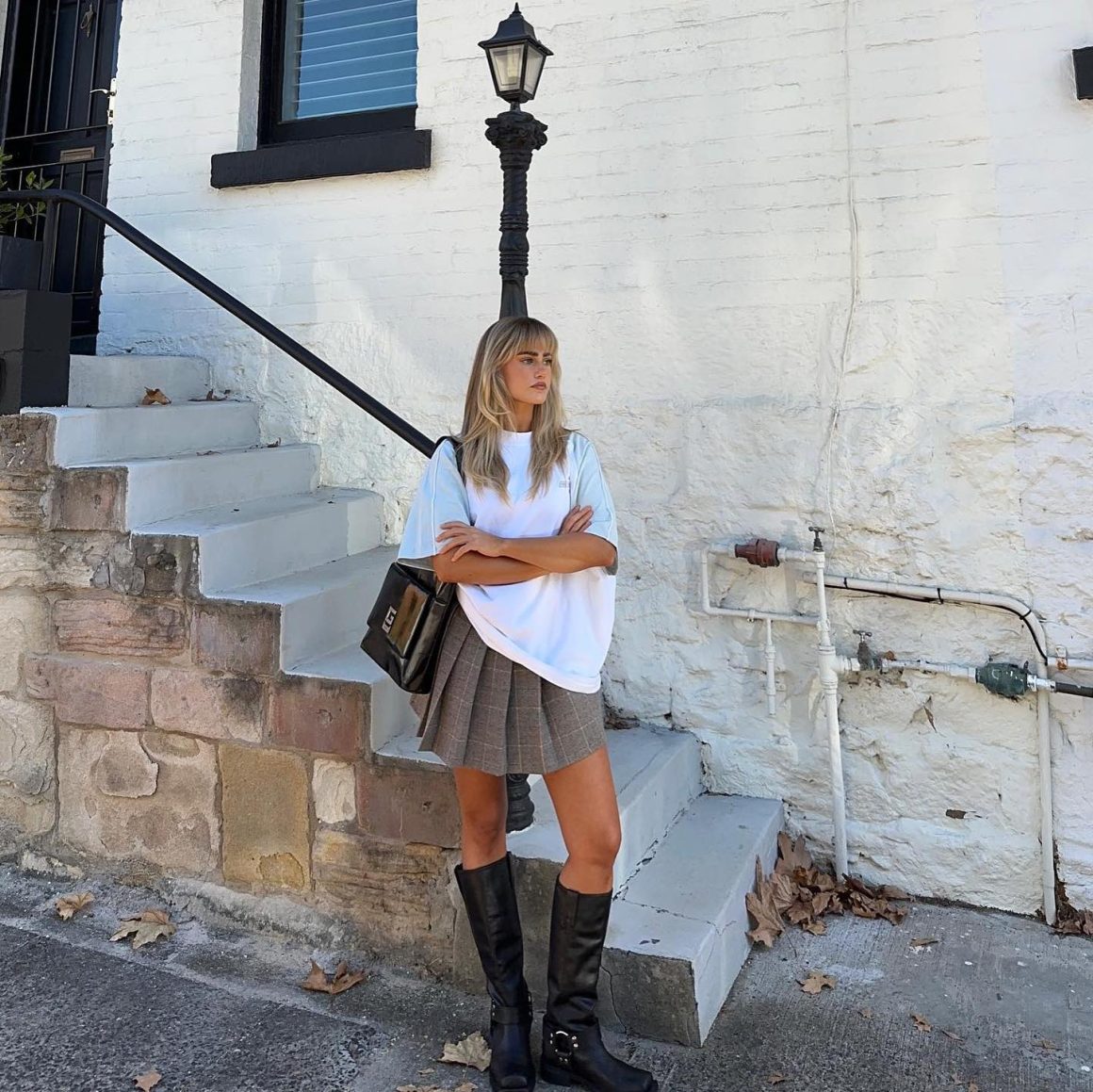 This is a look I can picture wearing in London, wandering the streets for an overpriced coffee. It's more than likely you've already got an oversized white t-shirt in your wardrobe, so this look is an easy one to try. All you need is a classic pleated skirt with your everyday tote bag.
In keeping with the European fashion style, when the temperatures drop, all you need to do is add an oversized blazer and some tights. Add gold hoops and you'll be ready to walk from home to the bar.
Shop The Look:

I can still remember owning a skirt just like this back in the day. Channel your inner Bohemian 90s child with this look. Start by layering a boho-inspired brown studded belt over a beautiful white lace floaty skirt for a touch of femininity. Pair it with a crisp white singlet to keep the look fresh and clean.
To add a hint of edginess, throw on an oversized bag and a stylish leather bomber jacket. Finally, complete the ensemble by mixing and matching coloured necklaces to add a playful and vibrant touch. This outfit is perfect for the changing seasons because it's all about layering.
Shop The Look:

Elsa Hosk has always been one of my favourite style icons. She is one person who pulls off every look – from grungy to feminine, professional and beyond. Plus, I found the exact lace dress she was wearing in these photos (it's under $100 and listed below).
Take a page out of her book and pair your biker boots with a long, black dainty lace dress. Add a grungy pair of 90's wrap-around sunglasses and your biker boots and you're good to go.
Shop The Look:

It's probably clear by now that biker boots offer so much versatility (and I love them). They're incredibly practical way to dress for the changing seasons. Sturdy, comfy and timeless. After all, they can add an edge to any look, while keeping you warm at the same time. I hope this blog post has given you some ideas on how to wear your boots for the coming season.
Let me know in the comments below what you're favourite look is!